Earlier this month, a group of innocent people were praying in a small church in Sutherland Springs, Tex., when a gunman carrying a semiautomatic rifle opened fire and killed 25 parishioners.
Officials investigating the shooting asserted that they would not treat the attack as a terrorist act.
Just a few days earlier, a man in a rented truck drove down a busy bicycle path in New York City, killing eight people and injuring almost a dozen more. Officials, including New York Mayor Bill de Blasio, immediately labelled the attack "an act of terror, and a particularly cowardly act of terror."
In October, another gunman named opened fire at a music festival in Las Vegas, killing at least 59 and injuring as many as 527 people. Although this attack went down as the deadliest mass shooting in American history, officials refrained from calling it a terrorist act.
The controversy around how acts of deadly violence are labelled has revived the old, ferocious debate about the various definitions of an act of terror. Should terrorism always be politically motivated? Is the label "terrorist" only and exclusively assigned to attacks perpetrated by Muslim individuals? Can we consider the Texas and Las Vegas shootings as apolitical forms of terrorism?
As a PhD candidate at the department of Modern Languages and Cultural Studies at the University of Alberta, a big part of my research deals with terrorist groups such as ISIS and al-Qaida.
What is terrorism?
For several years, various scholars and policymakers have tried to define terrorism. The renowned professor Yonah Alexander defines it as "the use of violence against random civilian targets in order to intimidate or to create generalized pervasive fear for the purpose of achieving political goals."
In the United States, terrorism is defined in the Code of Federal Regulations as "the unlawful use of force and violence against persons or property to intimidate or coerce a government, the civilian population, or any segment thereof, in furtherance of political or social objectives." Unlike these two definitions highlighting political motivation, the Federal Emergency Management Agency's definition includes the use of illegal force or violence "for purposes of intimidation, coercion or ransom," but does not require it to be politically motivated.
The failure to craft an agreed-upon definition of terrorism, accompanied by a growing politicization of the concept by American politicians and media outlets, has left a vacuum for different interpretations. Most disturbingly, it's stigmatized a specific religious group — Muslims.
What makes a Muslim a terrorist by default?
Let's go back to June 12, 2016, when Omar Mateen, an American with Afghan origins, killed 49 people and wounded 58 others in an armed attack inside Pulse, a gay nightclub in Orlando, Fla.
Media outlets rushed to speculate that Mateen had perpetrated this act of terror because he'd pledged allegiance to ISIS. But I contend Mateen invoked the name of ISIS in order to add notoriety and publicity to what was then the worst mass shooting by a single shooter in American history. Mateen, after all, had been interviewed by the FBI in 2013 and 2014 but was not found to be a threat.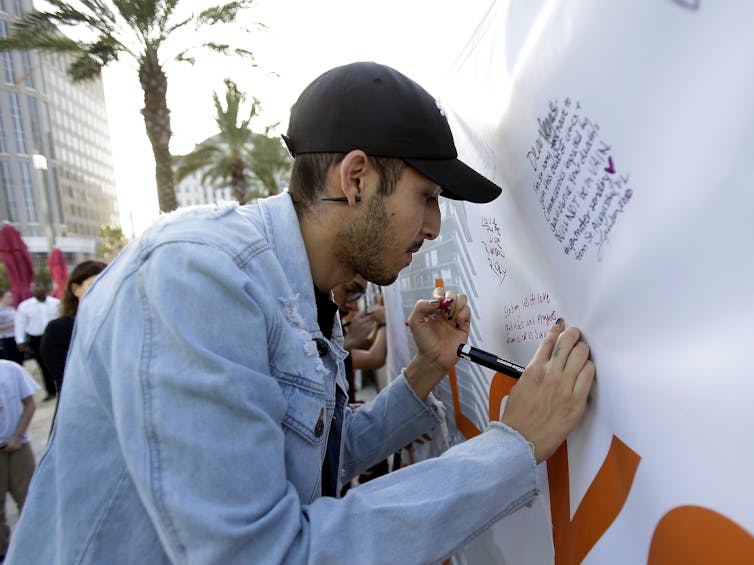 Regardless of the allegiances the shooter might have pledged, all evidence suggests it was a queer-phobic attack.
The irony is that in the American subconscious, any violent attack perpetrated by a Muslim or by someone of Middle Eastern descent is immediately and automatically deemed as an act of terror no matter what their motivations. In other words, Muslims tend to be viewed as inherently political terrorists even if they're mentally unstable or have serious personal or family issues.
Mateen's father told NBC News that his son was "enraged" after seeing two men kissing in front of his family. Besides that, Sitora Yusifiy, who was briefly married to Mateen, stated that "Omar was not a stable person."
When white people commit acts of domestic terror, they're often labelled deranged, evil and mentally ill, just as U.S. President Donald Trump described the perpetrator in Texas.
Why aren't mass shooters considered terrorists?
Apparently, it's essential an act of violence has political motivations in order to be considered terrorism.
But if we move from a purpose-based to an effect-based approach, the crimes committed by white men in Texas and Las Vegas are instances of apolitical terrorism: Their deeds mimicked the spectacle of a terrorist attack without the political demand. They are acts of terror because they were intended to terrorize and punish a population of innocent people by causing the biggest number of indiscriminate causalities as possible.
Even after their heinous acts, Devin Kelley, the Texas shooter, and Stephen Paddock, the Las Vegas killer, are afforded the privilege of being white.
They are not placed in a category of white men who commit more mass shootings than any other racial or ethnic group. News reports will not place them in the category of terrorists, even though in the case of Paddock, Nevada state law defines the Las Vegas mass shooting as an act of terrorism
According to the Trump administration, Muslims need more vetting and travel bans need to be implemented to protect the American people, but a white person can commit cold-blooded, racially motivated murder, as Dylann Roof did in South Carolina, and simply be described as mentally unstable and deranged.
This is the most common and widespread explanation every time white men gun down countless innocent people, even when medical evidence backing up a mental illness diagnosis is lacking. It's high time Trump comes up with a system that vets white people — particularly when it comes to the ease with which they can obtain guns — in order to address the plague of terrorism by white Americans.
I sometimes wonder if white people themselves are aware of how often the crimes committed by their racial group are excused or minimized under the guise of anxiety, mental illness, drug addiction, depression and BS fragility sensitivity syndrome (yes, I made up that last one).
Am I saying that excuses and pretexts should be provided when Muslims, Black or brown people commit terrible crimes? Absolutely not.
My point is that all attacks of this nature — regardless of the race, colour, and ethnicity of the perpetrator — are acts of terror. There should not be a disentangling of the motives of the attacks almost the instant they've happened. The gravity of the butcheries committed in mass shootings are so horrific, it is terrorism, pure and simple. Time to label it as such.