In the mid-1990s, technology-driven economic growth induced a strong demand for science, technology, engineering and mathematics, or STEM, skills.
This development came at the expense of humanities and liberal arts.
More people, especially women, enrolled in STEM fields rather than humanities and liberal arts studies.
Students often falsely assumed that a humanities or liberal arts degree has far less employment potential than one in STEM. Universities shuffled resources away from humanities and liberal arts toward STEM over the last three decades.
As researchers at a business school that trains many STEM graduates in management and leadership, we see no reason why humanities graduates too cannot expect to excel in the corporate world. We believe that humanities departments at universities should work more closely with business schools to better prepare humanities majors for the corporate world.
Humanities leaders
In the U.S., some high-profile humanities and liberal arts graduates have left their mark on the corporate world. A 2015 Time magazine list of humanities business luminaries includes Starbucks CEO Howard Schultz, who studied communications; HBO CEO Richard Plepler, who studied political science; and YouTube CEO Susan Wojcicki, who studied history and literature.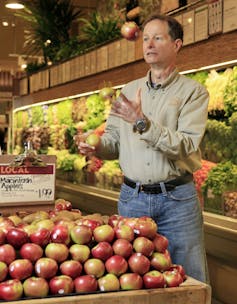 We analyzed data from S&P Global on 2,262 corporate leaders – vice presidents and C-suite executives – in the U.S. today. According to the data, only 1.5 percent graduated in a humanities or liberal arts field.
History and psychology graduates are the two groups of humanities graduates most common in the executive ranks of the business world, followed by philosophy and linguistics graduates. People with degrees in music, drama and fashion were the least common.
The data also show that only 23 percent of humanities and liberal arts executives pursued an MBA, lower than the 26 percent rate for the total population of executives. A higher proportion of humanities and liberal arts executives also had Ph.D.'s or master's degrees.
We found that only a little under 12 percent of humanities and liberal arts graduates in the corporate world attended Ivy League schools. However, that figure is higher than 7.6 percent of the total executives who attended Ivy League schools.
More than six in 10 humanities majors in the corporate world work in the consumer products industry.
Promoting business skills
In 2016, there were more than 310,000 graduates in the humanities and liberal arts in the U.S. That suggests to us that the humanities and liberal arts represent a vast pool of untapped leadership for U.S. corporations. That's especially important today, when 60 percent of American companies face leadership talent shortages that impede their performance.
It's in the humanities and liberal arts, after all, that students learn about the complexities of human behavior – which is useful when trying to understand consumer behavior, users' needs and interpersonal relationships in the business world.
We see two steps that universities can take to promote humanities leadership in the business world. First, they can make training in the humanities and liberal arts more relevant to business and job market needs. Second, they should incorporate humanities and liberal arts training into STEM itself – for example, by introducing mandatory modules that would include learning about major works and key ideas in anthropology, philosophy and psychology.
We believe that integrating humanities and business at the university level would help develop a more agile and versatile workforce whose members can adapt much quicker to the marketplace's changing needs.
What's more, many business are emphasizing big data and analytics more and more. That means that responding to the nuances of individual and community behaviors will offer a competitive advantage. We think that humanities graduates would be more adept at detecting, analyzing and understanding such nuances.