In the late evening Scandinavian sun at the 1995 World Athletics Championship, Jonathan Edwards, a British triple jumper, was the tenth t jump out of of 12 finalists. He took a minute to collect himself, then sped down the runway to jump 18.16m, breaking his own world record by 18 centimetres.
Edwards wandered around in a contented daze, waiting for the distance to be displayed when he heard the crowd roar as they saw the scoreboard before he did. The jump was valid. Then, 25 minutes later Edwards went again; he looked incredibly relaxed before he sprinted for his second celebratory jump, whose rhythm and smoothness produced a further distance of 18.29m. The stadium exploded in a tumult of shared joy of witnessing something very special.
And very special it was – that record has stood for 20 years now. In a world where athletes constantly shave millimetres, seconds and nano-seconds off previous bests, that jump in 1995 is assuming the status of a mythical feat. The closest anyone else has got is 20cm away - Kenny Harrison (USA) at the 1996 Atlanta Olympics. More recently, Cuban Pedro Pablo Pichardo's steady annual improvements have seen him come within 21cm.
How did Edwards do it? He described it as a magic combination of timing and speed, power and touch. And studying his 2001 authorised biography, A Time to Jump, and his subsequent public comments can give us more insight.
Early years
A key ingredient in Edwards's success was a genetic blueprint that meant he had raw speed on the track (according to his biography, his best 100m time is 10.48 sec). Speed as you approach take-off in triple and long jump is one of the key pre-requisites of success, since it translates into horizontal distance when jumping. But genetic potential is the relatively easy part; the rest is a blend of multiple factors.
Growing up in Ilfracoumbe, a modest town in Devon, South West England, helped. Where you grow up influences the likelihood of sporting success with small towns enabling a more supportive developmental climate. It's often better to be a big fish in a small pond. West Buckland private school also allowed Edwards to thrive in a diverse range of sports including rugby, basketball, tennis, athletics, cricket and gym.
Participating in a rich mix of different sports in childhood is the optimal preparation for future success in most sports. Learning to move in varied ways is the best foundation, rather than specialising in one sport from an early age which might be called "extreme nurture". Edwards eventually concentrated on jumping at the age of 21.
At school, his diminutive stature earned the nickname of "Titch" and a birthdate in May magnified his late physical development in comparison with others in his school year. A concerned PE teacher was frightened to select him for inter-school rugby fearing for his safety. Children born in May, June, July and August, the youngest in their school year, are less likely to get selected for squads in adolescence, but are more likely to achieve senior professional status: a reversal of the relative age effect. The additional challenge experienced by these initially disadvantaged younger athletes is thought to build resilience – a key component for success.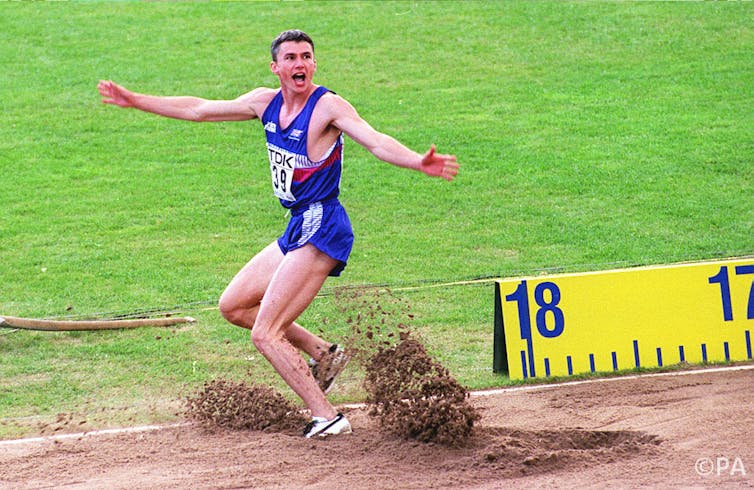 Faith and training
To succeed, champions need to learn their craft. After graduating in Physics from Durham University, the 1988 Olympics was his first major event at the start of his elite development. Fortunately his body responded well to training and he mostly stayed injury-free, both of which are starting to be recognised as having genetic components.
An international athlete's craft involves refining diet, responding to coaching analysis, conditioning in the gym and making wise travel arrangements. While in the arena, optimising the warm-up, saving energy for competition and coping with pressure all need to be incrementally developed through experience.
After six years of full-time training, aged 27, following disappointment at both the 1988 and 1992 Olympic Games, Edwards made the World Championships podium (bronze) having leapt 17.44 metres. Jumping a whole metre further seemed impossible at that time.
Athletes need to be fascinated with this process of improving. The paradox is that they need to be able to make sense of this seemingly selfish pursuit; a need to be content with the purpose of their lives. At times Edwards battled with realising his talent and fulfilling his strong Christian obligations which until 1993 meant he would not compete on Sundays. His evangelical faith helped make sense of optimising his jumping talent: it was in service to God. Many years later, in retirement and after losing his faith, he said that looking back "faith gave me more perspective on success or failure, it was my sport psychology in a way".
A further ingredient of success is rest and recovery. Edwards was forced to recuperate after contracting Epsterin Barr virus in 1994; it meant he was revived as he eased his way back into training. It also gave him time to think deeply about his jumping technique including a new two-arm swing skywards.
The big jump
The final ingredient in the mix is supreme confidence. Edwards's 1995 season started well. A national record in his first contest, he was on his way. Then in June he achieved the longest leap of all time, 18.43m in Lille. Unfortunately the jump was only a hair's breath, 0.4m/sec, over the legal wind threshold. But he had re-defined the parameters of the sport.
He first broke the world record properly weeks later in Salamanca with 17.98m. Then came Gothenberg and his place in history. Watching the footage of his second, record-breaking jump, you can see that on the runway he is relishing the moment having just broken the world record again minutes previously. He knows he might do it again and is supremely confident and relaxed.
Later, he admitted that if he could combine the physicality of Gothenberg with the technical perfection of Lille he believed 18.60m was possible. He never achieved such a distance, but five years later he won gold in the 2000 Olympics, aged 34.
Jonathan Edwards' path from a cherubic vicarage schoolboy to the 20th anniversary of his enduring triple jump world record reveals rich insights about the complex jigsaw of podium success.
Often discussions of elite athletics all too easily fall into a facile nature-nurture debate. Probing athlete's biographies alongside research can reveal fascinating and varied routes to the top. And there are few higher (or further) athletic achievements than that great leap in 1995.