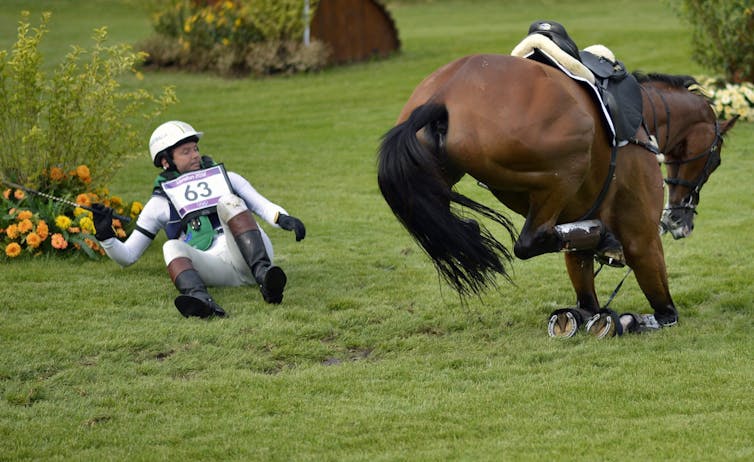 It just hit me when one of the commentators on Channel Nine dismissed a dramatic fall of horse and rider by merely uttering: "Oh, bad luck". Here was this incredibly dedicated athlete (and his horse) who probably had paused relationship, professional, family, and social life, in order to peak perform at this one event - the Olympic Games. Only to be dismissed by a well paid reporter who was flown to London courtesy of the network, to provide expert comments on a sport that he loves to watch in the first place.
This is not bad luck… this is utter disaster, 4 years of dedication, blood, sweat, tears and focus down the drain.
Is it worth the risk of not succeeding to put lives on hold and work towards participating in the pinnacle of sporting events? A good old Olympic credo says that it is more important to participate than it is to win. To Leisel Jones it might be true in 2012, after three earlier campaigns that delivered multiple medal rewards.
Stephanie Rice might start feeling that the return of participating in the London Games does not outweigh the risk of failure and slowly fading into oblivion. How much greater were the rewards four years ago. It must be hard to reflect on the four years of investment that lead to – well – participating in the Olympic Games.
Of course, most of the 10,000 or so athletes do not medal, and so for most young people of the world it must still be worth training so hard just to participate in the Olympics without it delivering medals and the associated fortune and fame. And in some instances the poorest of performers become the most famous. Remember Eddy the Eagle or Eddie the Eel? At the Olympic rowing course we witnessed another example of why participation is more important than winning.
A rower from an African country without water to row in crossed the line when the course marshals were preparing to turn off the lights. He probably did not train as hard as Stephanie but certainly provided some light entertainment. He also made us mere mortals feel for a moment that if we really wanted, we could also participate in the Olympic Games.