The sudden and unexpected diplomatic crisis between Canada and Saudi Arabia has raised questions about their levels of bilateral economic relations, the $12 billion arms sale signed by the two countries in 2014 and the fate of thousands of Saudi students pursuing higher education at Canadian universities.
This spat was ignited when the Saudi government ordered the expulsion of Canada's ambassador to the kingdom and announced a halt to "all new business and investment transactions with Canada". This was in response to tweets from Canada's foreign affairs minister, Chrystia Freeland, and her ministry's Twitter account criticizing the arrest of human rights activist Samar Badawi.
But before delving into the repercussions of this crisis, an overall assessment of Canadian-Saudi relations is needed.
Substantial trade
According to a fact sheet published on the Canadian government's website, Saudi Arabia is Canada's largest trade partner in the Middle East and North Africa. The overall trade value between the two nations fluctuated between C$3-4 billion between 2011 and 2017, with Canadian exports of about $1 billion and imports of $2-3 billion.
While not negligible, these numbers don't compare to Canada's two-way trade with the United States, which amounted to US$673.9 billion in 2017. Nonetheless, Riyadh's move to freeze all business with Ottawa could deprive Canada of tremendous opportunities for collaboration and investment in Saudi Arabia.
With the new Vision 2030 launched by Crown Prince Mohammed bin Salman, the kingdom is becoming increasingly open to foreign direct investment. It's diversifying its infrastructure projects and planning a shift to a green economy that is less dependent on fossil fuels. All of these sectors present commercial opportunities for Canadian industries, but Ottawa seems on its way to missing out on them.
There is also a $15 billion deal to sell light armoured vehicles (LAVs) to Saudi Arabia that is now in jeopardy. The deal, if scrapped, could be a blow to Canada's defence industry, which employs 65,000 people and contributes $6 billion annually to Canada's GDP.
David Perry, a senior analyst and fellow with the Canadian Global Affairs Institute, argues that foreign arms' sales …
" … allow Canadian firms to keep plants operating, workforces employed, supply chains intact and engineers busy researching and developing new technology. The Saudi deal will keep the thousands of unionized shop-floor workers and engineers at the GDLS-C plant in London, Ont., employed for years."
Another area of co-operation that cannot be overlooked is educational exchange and its remarkable contribution to the Canadian economy. There are approximately 7,000 Saudi students on government scholarships studying in Canada. Statistics from the Canadian Bureau for International Education reveal that students from Saudi Arabia made up two per cent of Canada's 494,525 international students in 2017.
Unfortunately, the fate of these thousands of students remains undetermined as the kingdom decided to withdraw them and relocate them to other countries in retaliation of Canada's criticism of its human rights record. This will have a negative impact on their academic standings and studies.
Why the spat?
Canada has made the promotion of human rights, including women's rights and the rights of religious minorities, a top priority of its foreign policy and diplomatic initiatives.
It's therefore appropriate to demand Saudi Arabia release political prisoners and abide by human rights standards. As has been widely documented, the human rights situation in Saudi Arabia is abysmal, and the kingdom has been accused of committing war crimes in Yemen.
But Ottawa has fallen into the trap of "double standards" when dealing with the issue of human rights. When human rights violations are linked to the Israeli/Palestinian conflict, Canada turns a blind eye and refrains from condemning the killings and imprisonments of Palestinian children and young people, the confiscation of Palestinian lands and the establishment of illegal settlements.
A consistent and fair approach would see Ottawa either condemning both Israel and Saudi Arabia, or turning a blind eye to both of them.
---
Read more: A thousand lashes for Raif Badawi, while the West stays silent on Saudi human rights
---
The Saudi reaction
The Saudi reaction to Canada's criticism has been portrayed as "reckless, impulsive, and aggressive" by Sultan Barakat, director of the Center for Conflict and Humanitarian Studies at the Doha Institute. Similarly, Lloyd Axworthy, a former Canadian foreign affairs minister, likens it to a Donald Trump-esque fit of pique marked by intimidation and saber-rattling.
Despite unanimous agreement among political commentators and analysts that the Saudi reaction is exaggerated, Saudi leadership could exploit this crisis to garner domestic support and to thwart all attempts to criticize the kingdom's draconian crackdown on political dissidents.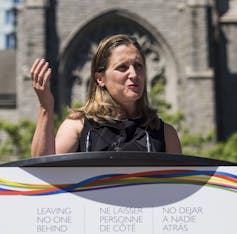 Foreign relations and foreign policy are often meant to advance national interests. So what did Canadian foreign policy makers want to achieve by going after Saudi Arabia publicly?
If the aim was to alleviate the circumstances of Samar Badawi and her imprisoned brother, Raif, to influence the broader direction of the Saudi leadership or to rally other like-minded countries to speak up against the human rights violations in the kingdom, then the results were disastrous.
Canadian foreign policy makers could have adopted a more professional approach to address the issues of human rights in the kingdom while maintaining strong strategic and economic ties. In other words, it's about finding a way to calibrate what Thomas Juneau, professor at the University of Ottawa, calls the costs of tactical disagreements and the benefits of strategic alignment.
Canada's relationship with Saudi Arabia is actually advantageous on several fronts. There's no doubt navigating the relationship was tricky at times, but the alternative will be seriously detrimental to Canada if Saudi Arabia intensifies its aggressive measures against us.