How did our galaxy form? How do galaxies evolve over time? Where did the Sun's lost siblings end up?
Three hours north-east of Parkes lies a remote astronomical research facility, unpolluted by city lights, where researchers are collecting vast amounts of data in an effort to unlock some of the biggest questions about our Universe.
Siding Spring Observatory, or SSO, is one of Australia's top sites for astronomical research. You've probably heard of the Parkes telescope, made famous by the movie The Dish, but SSO is also a key character in Australia's space research story.
In this episode, astrophysics student and Conversation intern Cameron Furlong goes to SSO to check out the huge Anglo Australian Telescope (AAT), the largest optical telescope in Australia.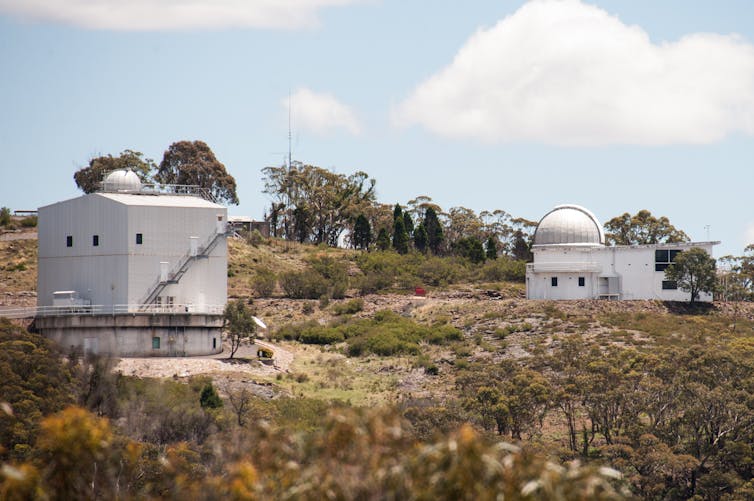 ---
Read more: Darkness is disappearing and that's bad news for astronomy
---
And we hear about Huntsman, a new specialised telescope that uses off-the-shelf Canon camera lenses – a bit like those you see sports photographers using at the cricket or the footy – to study very faint regions of space around other galaxies.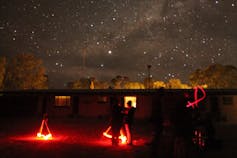 Listen in to hear more about some of the most fascinating space research underway in Australia – and how, despite gruelling hours and endless paperwork, astronomers retain their sense of wonder for the night sky.
"For me, it means remembering how small I am in this enormous Universe. I think it's very easy to forget, when you go about your daily life," said Richard McDermid, an ARC Future Fellow and astronomer at Macquarie University.
"It's nice to get back into it to a dark place and having a clear sky. And then you get to remember all the interesting and fascinating things, the size, the grandeur and the peacefulness of being in the dark."
New to podcasts?
Podcasts are often best enjoyed using a podcast app. All iPhones come with the Apple Podcasts app already installed, or you may want to listen and subscribe on another app such as Pocket Casts (click here to listen to Trust Me, I'm An Expert on Pocket Casts).
You can also hear us on Stitcher, Spotify or any of the apps below. Just pick a service from one of those listed below and click on the icon to find Trust Me, I'm An Expert.
---
Read more: Trust Me, I'm An Expert: what science says about how to lose weight and whether you really need to
---
Additional audio
Kindergarten by Unkle Ho, from Elefant Traks.
Lucky Stars by Podington Bear from Free Music Archive.
Slimheart by Blue Dot Sessions from Free Music Archive.
Illumination by Kai Engel from Free Music Archive.
Phase 2 by Xylo-Ziko from Free Music Archive.
Extra Dimensions by Kri Tik from Free Music Archive.
Pure Water by Meydän, from Free Music Archive.
Images
Shutterstock
Cameron Furlong
---
Read more: Antibiotic resistant superbugs kill 32 plane-loads of people a week. We can all help fight back
---