I was born in Porto Alegre, the capital city of Rio Grande do Sul, the Brazilian southern state that borders Uruguay and Argentina. I lived in Brazil for 40 years before relocating to Australia in 2009.
It was in Brazil that I developed my passion for football – playing on the streets, on beaches or anywhere with anything that could be kicked by my feet – a paper ball, a sock-filled ball, a plastic ball, a cigarette pack or even a bottle cap. "Bottle cap football" is a very popular game with Brazilian children.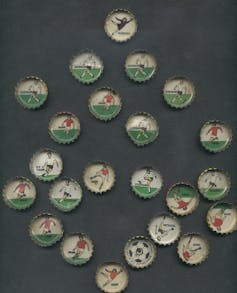 However, I have never been a good football player. It's been as a supporter that my "football career" has advanced so far. From a very early age, I started attending football matches with my father. It was with him in the Pacaembu stadium, in the heart of Sao Paulo city, that I watched Pele live several times.
It was on Brazil's streets and in football stands where I learnt important life lessons – and where I developed my own football philosophy. As asserted by Brazilian anthropologist Luiz H. Toledo, supporting football is the "Brazilian ordinary people's metaphysics" – and during my life as a football supporter I have certainly stretched this metaphor a lot.
Last year, just after the Confederations Cup in Brazil, I wrote an article entitled: Imagine in the World Cup – sport mega events and social exclusion in Brazil. In the first half of that title I explored the mix of irony and frustration that "ordinary" Brazilian people had towards the mega event. "Imagine in the World Cup" was the people's mantra since Brazil was chosen to host the 2014 World Cup, but daily life remained as tough or even worse than it was in the past, despite the promise that the event would deliver a legacy of better social conditions.
Therefore, in this column I want to look at the World Cup from the ordinary Brazilian people's perspective. I will talk about the taxi driver that had suffered a 40% cut in his monthly income because the presence of the Socceroos in his city. I will discuss the success of the World Cup educational projects of Miriam Balicas, a dedicated and extraordinary physical education teacher in the Brazilian public school system.
But I will talk as well about Brazilian football politics. I will tell stories about recent Brazilian football heroes – such as Romario and Ronaldo – and their different roles and political positions in the World Cup preparations – and how one of them became an "anti-hero".
I will talk about the "suits" that control not only the Brazilian Football Federation but also the World Cup Local Organizing Committee, and their involvement with the military dictatorship. I will talk about the ordinary people's resistance to FIFA's attempts to destroy the local culture and life. I might even talk about the Brazilian team and its preparation – always with a "from the stands" perspective.
Someone has asked me what I am most looking forward to in the World Cup. He asked if maybe I feel divided loyalties between Brazil and Australia. No way – my family and I will cheer on Brazil from the first to the last match. From a migrant's perspective, I am looking forward to proudly wearing my home country's colours and flag on Australian streets for the next few weeks.
From a social commentary point of view, I am desperately hoping that people don't get hurt during the protest battles that will be running outside of the stadiums. As a Brazilian, I would love to see the peaceful encounter of the "two Brazils" – the respectful dialogue between the disenfranchised Brazilians and the powerful ones – but this won't happen during the World Cup.
We are not imagining anymore – the World Cup is now just days away. Go Brazil!