"I want it to go for six hours, and I want it to be about a group of postmenopausal women. Unfuckables," said Jane Campion of her vision for the television show Top of the Lake.
In the first episode of its second season, a turquoise suitcase containing a woman's body washes up on the shore of Bondi Beach, pulled out of the water by a lifeguard too late to save her. A fragile-looking, almost birdlike female detective with iceberg-blue eyes pries open the case and sees its gruesome contents. True to Campion's original vision, Top of the Lake: China Girl dwells resolutely in the land of the unfuckable.
Co-written by frequent collaborator Gerard Lee and co-directed by Ariel Kleiman, Top of the Lake: China Girl is set four-ish years after season one's Queenstown paedophile-ring bust. A few weeks after an aborted marriage, the singular Elizabeth Moss is back as Detective Robin Griffin (now a Detective Senior Constable). She has returned to Sydney to reconnect with the daughter she gave up for adoption and get her life back on track by training new police recruits on the Walsh Bay wharf.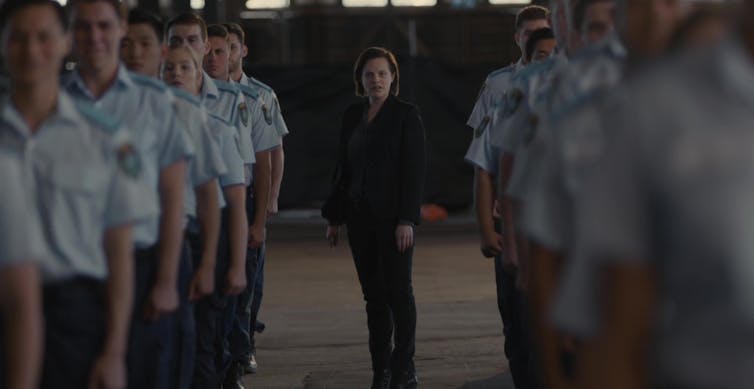 Taking on the risky business of migrant sex work, Campion has spoken of basing the new series on extensive research conducted in a stretch of brothels in the south-eastern Sydney suburb of Mascot. "Silk 41", the fictional centrepoint for much of the series' drama, functions as a red-lit replica of the establishments Campion has reported frequenting.
A sassy Prada-wearing escort serves, perhaps, to include the perspectives of the sex workers in the advocacy group Scarlet Alliance who also worked with Campion in an advisory capacity. These moments of meta-fiction, though sometimes a little clumsily integrated, highlight Campion's intent in not only making good use of her vast research, but also acknowledging and respecting voices so often ignored.
Campion sets herself apart from the run of the mill crime drama tropes by de-eroticising Cinnamon, the "shop name" of the woman found in the suitcase, whose image and life are interrogated throughout the series. Cinnamon's waterlogged body is shown decomposing and distorted beyond recognition, an honest depiction reminiscent of Lynda La Plante's landmark crime drama series Prime Suspect.
Though there have been critics who feel Campion's signposting of feminist issues is heavy-handed, in a Q & A after the Sydney premiere of the show's first two episodes, Campion declared
China Girl is beyond feminism … it's ovarian, know what I mean?
Indeed everything is focused around pregnancies, even morgue scenes. As Robin (Moss) and the coroner, Ray (Geoff Morrell), dig around in the body of Cinnamon to discover a tiny male foetus that turns out to be an irregular DNA surrogate implant, Campion is not-so-subtlety reminding us that not all sex-work takes place in a brothel.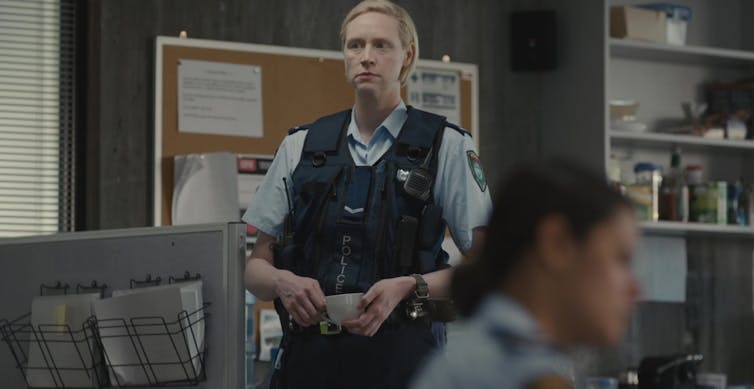 After the suitcase discovery, Robin is teamed up with rookie cop Miranda (played by Gwendoline Christie of Game of Thrones fame), who serves as an open and very enthusiastic offset to Robin's stand-offishness. Moss and Christie play off each other wonderfully, as do Alice Englert and Nicole Kidman, who play Robin's daughter Mary, and her adoptive mother Julie, who Campion has described as "a suburban queen; a control freak brought to her knees."
Mary and Julie clash – horribly – and in a typical adolescent act of rebellion Mary brings home series villain Puss (David Dencik), a brothel owner and faux-intellectual more than 20 years her senior.
Puss (soft spoken and aptly named) waxes lyrical about feminism and quotes Dostoevsky whilst toting a copy of the Socialist Alternative rag Red Flag and lighting a skinny, half-smoked cigarette. Living above Silk 41, he claims to be a product of rape, similar to Mary. He seems aloof from the violence and death surrounding him, yet there is something infuriatingly condescending about his gap-toothed smile when he faces off against Julia in a disastrous dinner scene.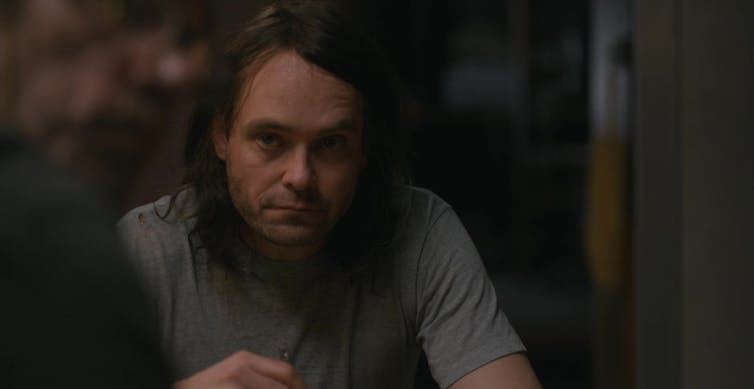 He's an insidious version of the other machismo collective of the series, a café-bound ring of men who run "Hooker Rater," a fairly self-explanatory porn website. The show's redeeming male presence is, however, Mary's adoring adoptive father, Pyke (played by Dead Europe's Ewen Leslie), who functions as a welcome lynchpin for much of the drama's underlying tensions. Apart from Pyke, it would be difficult to find any character in the series who isn't inherently flawed or unlikeable. Likeable simply isn't Campion's shtick.
Ominous visual beauty
The somehow ominous visual beauty of Top of the Lake: China Girl, which aired in full at MIFF at the weekend, is truly something to behold. Harking back to her earlier work (in films like In the Cut and The Piano), poetic images - a burning wedding dress held above a bonfire by two cackling men on a ute, a suitcase drifting peacefully across the sea floor - are poised against gorgeous vistas: New Zealand mountain ranges or a Sydney seascape.
There is definitely a sense of Campion being more adventurous in this second season, in both the defiant subject matter and images that crystallise it. In one dream sequence, for instance, fluorescent babies surround a chuckling Robin before she is shown thrashing and screaming in her sleep.
The wide-angle shots of Walsh Bay as police jog by in lapis uniforms - in a rippling reflection of the surrounding sea - offset what would otherwise be an over-reliance on mid-shot interior dialogue scenes, which threaten to turn the series into a boring police procedural. (I'm looking at you The Fall.)
The red-lit group scenes shot at Silk 41 are catapulted straight out of Lina Wertmüller's Love and Anarchy, all arms and freshly-shaved legs jumbled and draped in a sleepy, feminine sculpture. Piano filters through the series elegantly, turning the otherwise abject image of the submerged suitcase containing a dead body into an astonishingly elegant ballet of oceanic wilderness.
This being said – not all experimentations pay off. A dubious film-within-a-film, meta-fictional subplot to set up an end-of-series reveal about South-East Asian surrogacy is an unconvincing dalliance that probably could have been left on the cutting room floor.
At a recent talk on Top of the Lake at MIFF, Lee admitted: "There isn't a lot of [real] police work that happens [in the show], instead things are solved by someone simply calling and leaving a tip." This rather convenient occurrence does lead to slight plot inconsistencies and stretch one's suspension of disbelief at points too far. Lee and Campion, preferring to focus on microagressions, gender politics and interpersonal relationships in lieu of detailing crime drama's usual nitty-gritty police work, do endanger the series' otherwise watertight persuasiveness.
This ambiguous relationship to convention however, has not so much dogged as inspired much of Campion's career, as the tensions of sexual and racial politics have been channelled through her mythical personal vision.
Top of the Lake: China Girl, will premiere on Foxtel's BBC First on August 20.