This week, the Standing Council on Law and Justice (which constitutes the attorneys-general of the Commonwealth, states and territories) published a report on the impact of social media on juries. The report was commissioned by the Victorian attorney-general Robert Clark.
Five universities, led by Bond University, were involved in writing the report which investigated the major challenges posed by social media as it relates to juries and fair trial. Our research included a look at model guidelines and warnings regarding prejudicial material, the role and limitations of sub judice contempt in relation to social media and development by courts internationally.
The report follows the murder of ABC worker Jill Meagher in Melbourne last year which resulted in intense potentially-prejudicial social media coverage after charges were laid against a 41-year old man. This put the issue of "trial by social media" onto the attorneys-general agenda, and on October 1, several days after the charges were laid, the ABC reported Clark would be "seeking urgent agreement on adopting a national approach" on the issue.
The challenges in dealing with this issue are complex and there is no quick fix. When Facebook finally shut down Jill Meagher-related sites, several days after charges were laid, one site had 44,000 likes which included posts that were reported to incite violence and share details of the accused. Other cases have caused similar concerns previously elsewhere in Australia – for example, in the Daniel Morcombe murder trial in Queensland, and the Kapunda murder trial in South Australia.
In determining the best way of dealing with the vexing issues relating to social media and juries, our team canvassed the options that have been available to courts in dealing with traditional media's impact on juries. We also did some "reverse engineering" which looked closely at how working backward, from the jury-end of the court process, rather than the social media end at the start, might provide viable options.
First of all, let's assume two things: one, social media cannot be silenced and, two, juries will continue to be used in criminal trials in Australia. These are most certainly issues worthy of further investigation in relation to this topic, however our research took a pragmatic approach to current trends by focusing on immediate and short-term strategies in dealing with current juries.
Given this framework, we need to acknowledge that there are inherent limitations to traditional approaches of managing the balance of publicity and fair trial – namely the capacity for courts to issue suppression (non-publication or "gag") orders, or by the threat of sub judice contempt charges against those who publish material which may impact on a fair trial.
Journalists are educated in these rules: indeed, they have long lamented gag orders in particular. One of John Hartigan's last speeches as chief executive of News Ltd talked of the "dangers" of gag orders. Journalists also understand the timelines of when they can and cannot publish material in the lead up to a trial, but this is not so for most social media users.
Threats of prosecutions for sub judice contempt would clearly be less likely to deter social media users and total suppression orders would be highly problematic because of the ill-defined space of social media. Indeed, in the Kapunda trial, magistrate Bob Harrap suppressed the name, image and address of the 18 year-old charged, but social media posts continued.
The most "doable" option lies in dealing with jurors once in the court system - a type of reverse engineering of the problem - so that jurors know exactly what they can and cannot do with social media. Traditional approaches to dealing with media impact on juries have included judicial directions, changing the venue of the trial, judge-only trials, delaying the start of the trial, sequestering the jury, and recently and controversially, polling jurors, as used in the high profile manslaughter case of Jayant Patel in Brisbane earlier this year. This case, described as an Australian first, was used to determine bias against the defendant.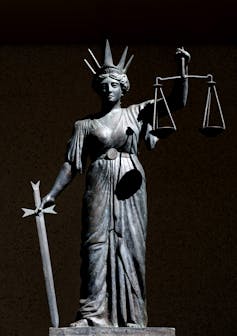 A recent UK study by Cheryl Thomas, undertaken for the British Ministry of Justice, found jury directions worked best when jurors had these in writing. Thomas found that almost double the number of jurors understood directions when given them in writing.
This option has been on the international agenda for some time. Our research found that some courts in the United States now use very specific wording in relation to social media, such as this one from Florida:
In this age of electronic communication, I want to stress that you must not use electronic devices or computers to talk about this case, including tweeting, texting, blogging, e-mailing, posting information on a website or chat room, or any other means at all. Do not send or accept any messages, including e-mail and text messages, about your jury service. You must not disclose your thoughts about your jury service or ask for advice on how to decide any case.
Our recommendations specifically address social media usage – or lack of it – by jurors, suggesting that they, in effect, "check their Facebook and Twitter" at the door. Among these recommendations included that jury directions (written as well as oral) should use plain English and specifically refer to social media, and that jury directions should clearly explain the possible consequences of failing to comply with the directions, including the possibility of the trial being aborted and the risk of criminal sanctions for disobeying directions.
In addition, we recommended the need for research at an in-depth level, including what formats best get these messages across to jurors and, finally, the need to develop a brief pre-trial jury training module for jurors. It's vital for the future of justice to be fairly and properly served.