In recent months two highly controversial political leaders, Donald Trump and Jacob Zuma, have received harsh, intense global media coverage.
Trump, a white man, is the Republican presumptive nominee in the US presidential race as "leader of the free world". Zuma, a black man, is the embattled President of the African National Congress-led government in South Africa, clinging to power in an emerging, developing democracy.
The trajectory of the two men through political power structures in their respective countries cannot be more dissimilar. Trump is the privileged, university-educated billionaire entrepreneur. Zuma is the "man of the people", rising from poverty and struggle politics through the ranks of the ANC with little formal education.
These men, seemingly poles apart, have something distinct in common. They are both prominent patriarchs with populist support.
They share a value system based on male supremacy, power and entitlement that has historically, and still continues, to subjugate, oppress, violate and exploit women globally. These men demonstrate that patriarchy transcends race, ethnicity, class, culture and geopolitics.
Its persistence in the US, one of the most advanced, democratised nations in the world, may appear paradoxical. But patriarchy, like all forms of structural violence, is insidious and invisible. It is historic, deeply entrenched and institutionalised in social, cultural and religious mores and practices. Patriarchy succinctly summarised,
… is generally not an explicit ongoing effort by men to dominate women. It is a longstanding system that we are born into and participate in, mostly unconsciously.
This means that both men and women perpetuate patriarchal power structures, but men are obviously the main beneficiaries of this system.
The sexist backlash
The global backlash against women when they are perceived to be gaining ground, asserting themselves or "cracking the glass ceiling" is well documented.
Trump, the modern, elitist patriarch, has a history of heaping vicious sexist scorn and humiliation on women. He insulted his Republican rivals, including Carly Fiorina's looks, and humiliated presidential rival Ted Cruz's wife.
After his recent campaign wins he used the classic, sexist "divide and rule" strategy. He said Hillary Clinton, his rival Democrat front-runner, was playing the "woman card" and has nothing else going for her. There has also been a huge outcry at his gaffe against women who have abortions.
Zuma, the tribalist, traditionalist patriarch, has a similar history of misogyny. At his 2006 rape trial, which ended with an acquittal, his sexist defence was that, as a Zulu male, he was obliged to satisfy a woman.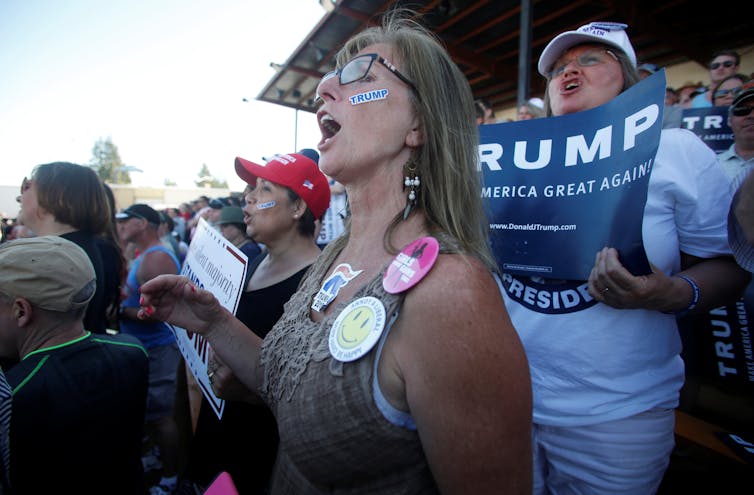 The South African Commission for Gender Equality has censored Zuma for saying the nation's "daughters" become a societal problem when they do not marry. He was recently accused by the opposition Democratic Alliance of "outrageously sexist" and offensive remarks. This, after he said he would like to compliment women more but can't as it is perceived as harassment in modern times. He added that women were missing out on "good men and marriage".
Complicity of women
The endurance and resilience of patriarchy in modern societies is not determined or sustained solely by men's actions, but by women's actions too.
Trump's campaign success, although decidedly skewed towards the Republican men's vote, clearly indicates that he has also won the women's vote. Republican women voters downplay his misogyny, seemingly more concerned with endorsing his xenophobic, racist and anti-immigration policies.
Like Trump, polygamist Zuma has the support of the ANC Women's League, historically the most powerful women's lobby in South Africa. This group, which earned sterling credentials in the fight against apartheid, has remained largely silent on the sexist controversies surrounding Zuma. Until just recently it had not even countenanced having a woman president.
Waiting in the wings in both the US and South Africa are two women touted to be the next presidents of their respective countries. Clinton, running against Trump, is strongly tipped to win the Democratic nomination for the presidential race. If successful she could be the first US woman president, ending a 227-year male legacy.
Nkosazana Dlamini-Zuma, who will be finishing her term as Chairperson of the African Union Commission in July, is tipped to succeed Jacob Zuma, her former husband. She could be the first woman to lead the governing African National Congress in its 104-year history. Ironically, Clinton and Dlamini-Zuma, respectively, will be the wife and ex-wife of former presidents in their respective countries.
Will women presidents make a difference?
Women presidents are perceived as crucial for pushing an agenda of women's rights and freedoms. But the pressures and constraints of the presidential office mean that the heightened expectations for them overcoming patriarchal dominance may not be realised.
It remains to be seen, therefore, whether both Clinton and Dlamini-Zuma, if they do become presidents, will buck the trend and leave a feminist mark in their legacies.
A global groundswell by women, and especially students, may be the impetus needed for society to finally engage with the global scourge of patriarchal dominance and violence.
If elected, Clinton would have to contend with increasing feminist militancy among women at US Ivy League universities and colleges against against a culture of rape, sexual violence and sexism.
In South Africa, a similar fight against patriarchal dominance and violence appears to be emerging from women students in the #FeesMustFall movement. They too are calling out men on sexual assault, a culture of rape and what they perceive as increasingly exclusionary, dominant male discourses in the mass social movement for deep transformation.
These movements echo the militant suffragette movements of the late 19th and early 20th centuries. Violent, militant pressure from women in the United Kingdom signalled a profound change in patriarchal power dynamics – and got women the vote.
The overwhelming scrutiny and attention Trump and Zuma receive in their respective countries relates more to their political rhetoric on issues of national and economic security. It is the yardstick they are measured by, rather than their misogyny.
The scathing condemnation against them has little to do with their stance on women's issues, and their blatant sexism. This illustrates the insidious persistence of patriarchal power structures in the developed and developing world. And both men and women globally perpetuate male dominance by endorsing populist patriarchs and by not holding them to account on women's issues.