During a recent La Liga football match between Real Madrid and Valencia, Vinícius Júnior threatened to leave the pitch after being racially abused by Valencia fans. This was the tenth incident of racist abuse levelled at the Real Madrid winger to have been reported since 2021.
Vinícius subsequently tweeted a video showing what he has been up against in different stadiums across the country:
In just 24 hours, this video attracted more than 30 million views. Around the world, players, former footballers, pundits and even the Brazilian president, Ignacio Lula de Silva, expressed their support.
Later in the match, following an altercation with the Valencia forward Hugo Duro, Vinícius himself was sent off. His suspension has since been rescinded and Valencia was punished with a partial closure of its stadium for future games.
However, straight after the match, La Liga president Javier Tebas's response was to criticise Vinícius while also casting blame on the Spanish legal system for hampering La Liga's efforts to combat racism. He later apologised. Valencia's fine and the length of its stadium ban, meanwhile, was reduced on appeal.
Racism in European football has been a problem for many years. But the responses from national governing bodies have been remarkably different across the continent. In Spain, both the legal system and, as our research shows, the media discourse around football present significant obstacles to eradicating it from the game.
A history of racism
Spanish football has long been plagued by racially abusive behaviour – in the stands, on the pitches and in the media. In 1997, the Brazilian left-back Roberto Carlos faced racist chants and actions from Barcelona fans, and even criticism from Spanish football manager Pep Guardiola (then a player for Barcelona) for speaking out about it.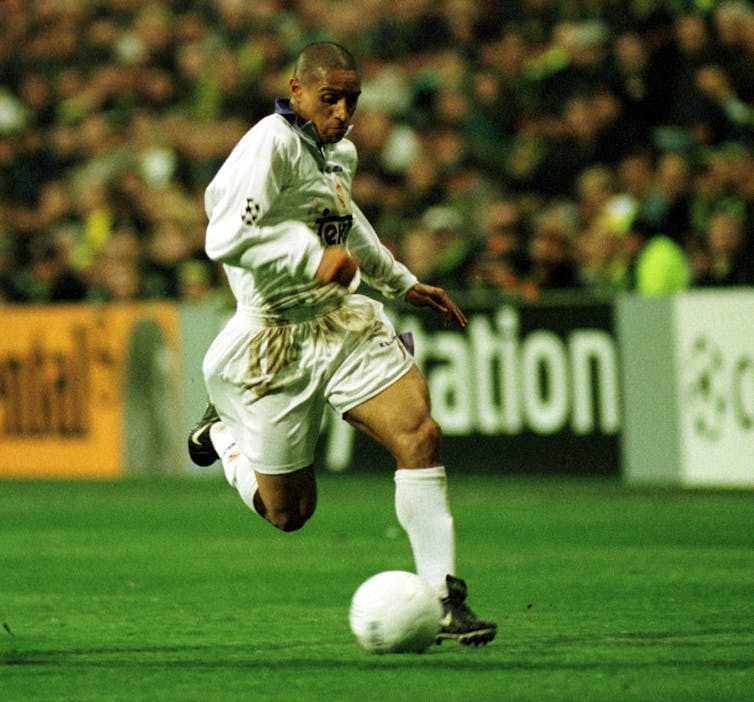 In the early 2000s, the Cameroonian striker Samuel Eto'o – who would go on to break the record for most La Liga games played by an African footballer – was also outspoken about the abuse he faced. In 2005, he said:
I used to think that these racist shouts were just a phase, but more and more people are getting involved and it is regrettable. Sometimes I think: "Is something going to happen to my daughter in school?"
Racism, of course, is not just a football issue. And this has often been used as a justification by La Liga for not taking the kind of action regularly taken in other countries – claiming it does not have the authority to sanction clubs for the behaviour of their fans. The league has now called for more sanctioning powers.
While La Liga has reported racist insults to the public prosecutor's office, the first trial against a fan accused of racial abuse is expected to take place at some point in 2023. This case involves an Espanyol fan who, in January 2020, allegedly abused Athletic Bilbao forward Iñaki Williams.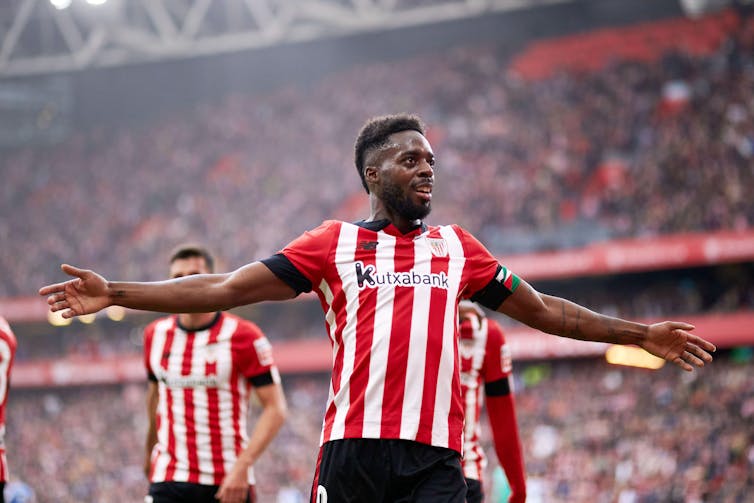 Official inaction
The Spanish football federation (RFEF), particularly its competition committee, could have taken measures – but until now has not. As sports journalist Jonathan Liew put it in February 2023:
While the individual incidents continue to gain coverage in the Spanish media, there seems to be precious little sense of the broader picture, precious little of the anger and urgency and introspection that could drive change.
However, journalists have highlighted that this time round, things have been a little different.
In 2012, for example, then RFEF president Angel Villar Llona flat-out denied the existence of racism in Spanish football. But, in response to the abuse Vinícius most recently suffered, current president Luis Rubiales finally acknowledged: "We need to realise we have a problem as a country."
Three Valencia fans have been arrested, and Spanish police also detained four Atletico Madrid fans for racist incidents against Vinicius that had occurred months earlier. And the Spain's national sports council, together with the RFEF and La Liga, have launched a new campaign against racism.
But this mostly only highlights how inactive the Spanish football authorities have been to date, in comparison with other countries. In Germany, during the 2021/22 season, more than 900 matches were suspended due to violent behaviour, racism or discrimination across all categories, including amateur football.
In France, in January 2022, Toulouse was sanctioned by deducting one league point due to xenophobic attacks.
And in Italy – a country where racism in football is often discussed in the context of migration – the past few years have seen a number of Serie A games temporarily suspended because of abusive behaviour by fans towards black players.
Some Italian clubs have been fined and forced to play in empty venues. In December 2018, Inter Milan was forced to play two games without any spectators at all, after Inter fans abused Kalidou Koulibaly, then a centre-back at Napoli, during a Boxing Day game. And in January 2020, a Verona fan was handed a five-year stadium ban after being found guilty of directing racial abuse at the Italian striker Mario Balotelli.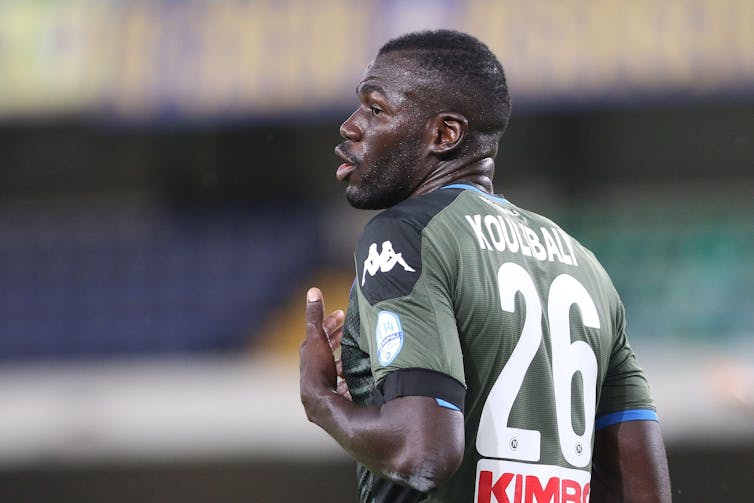 A sensationalist media
Our research shows the media in Spain bears some responsibility. Football commentary is highly sensationalist and divisive, more so than in other countries. It tends to normalise misogynistic, xenophobic and racist sentiments.
Commentators regularly downplay and excuse abusive insults and behaviour. In September 2022, a TV pundit on the popular El Chiringuito football programme argued that Vinícius should stop "dancing like a monkey" after scoring a goal. And after the recent match against Valencia, TV analyst Toni Padilla acknowledged the abuse directed at the player, but claimed he is "no angel" and that he "provokes" opposition teams, a claim others have echoed.
Others have argued that Spanish fans aren't being racist, they're just trying to distract the player – or that if they are racist, they're "only" a minority. And others still have shown a "whataboutist" attitude, claiming racism is worse in other countries.
Further, the media perpetuates rivalry between teams. After Vinícius's suspension was lifted, on May 24 2023, the front page of the popular sports daily AS ran with the headline: "Vinícius innocent. Mestalla guilty." This framing makes the story an "us versus them" confrontation, when actually, it was about tackling the racism the player has suffered.
The global visibility afforded La Liga means the Spanish football authorities now have the opportunity to make a real difference in the fight against racism. The actions these powerful institutions take, and the way the Spanish media tackles its own issues with hate speech and discriminatory discourse, are critical to whether Spain can address its global tag as a "racist country".