By Stephen Khan, Editor, The Conversation UK
On April 8 2013 Margaret Thatcher died. I had recently finished working on the news desk of The Guardian, and it was strange to be simply observing a news event rather than being involved in covering it.
The experience became even odder when I nipped up to the top floor of City University's Northampton Square building to see a small group of people with whom I was planning to start a new media project. There, in a small office that was formerly a janitor's residence, we briefly discussed the news. But there was no commissioning, writing or launching of content. That all felt a long way off. We didn't even have an editorial team.
Just a few weeks later another story came out of the UK that sent shock waves around the world. On May 22, Lee Rigby of the Royal Regiment of Fusiliers was brutally murdered on the streets of London by machete-wielding attackers. In the same office at City University where we met the previous month, we were now a team of seven editors running a live news website.
Yet this is a news operation with a difference; for we have no reporters. The aim of The Conversation is to provide expert analysis and commentary on news and research as it happens. All our writers are university and research institute-based academics.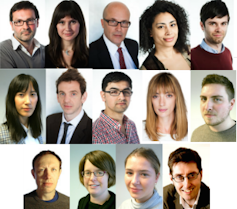 The project arrived amid a crisis in confidence in the mainstream media. Previous years had seen phone hacking, plunging sales of newspapers and a parallel hollowing out of newsrooms – with it often being expensive specialist reporters bearing the brunt of cuts. We believed that was creating a vacuum. The academic community had the knowledge to help fill that vacuum. Marrying it with professional editorial skills could help it do so.
With the death of Lee Rigby we had our first big test. How would we cover this massive breaking news story in a sensitive and timely way that provided an informed and educated take on rapidly changing events?
Within a few hours of the attack we had a strong article on the site, courtesy of Matthew Francis at Lancaster University, which was very different to what traditional media were running. By the next morning we had further content live, including a piece via our brilliant sister operation in Australia (which has been up and running for three years) that was able to take a swift look at the controversial media coverage of the event.
Against the backdrop of a truly shocking news event we realised that we could do something different – provide measured, timely analysis and commentary by people who were truly qualified to comment. A year on, we are still only just scratching the surface of what is possible with this novel and, I believe, incredibly valuable approach.
Smart journalism
Since our launch on May 16 last year, The Conversation's UK team has worked with international academics to provide rolling coverage of events around the world: from civil unrest and demonstrations in Brazil and Turkey, to a terror attack in Nairobi and the current situations in Ukraine and Egypt.
The global academic community provides not just expertise, but a ready and informed body of intelligent people able to cover events as they happen, wherever they happen. They have pioneered a new, switched-on, smart journalism. Often in the past academics were frightened off from engaging with the wider public via the media – terrified their work and knowledge would be misrepresented. What we were discovering though was that if you empower such academics and give them confidence that their message will be delivered in a clear and trustworthy way, they will get back in the game. And they do so at a time when their expertise has never been so valuable to the general public.
With the new year we expanded the team significantly – bringing in education and arts and culture sections and adding a Scotland editor, Steven Vass, based in Glasgow. The latter addition has allowed us to develop extensive coverage of what will be one of the most significant UK political stories of this year – the referendum on Scottish independence.
Now we are 15
So we have 14 editors and a community co-ordinator working with academics to generate around 20 items of content a day on issues from health, the arts, education, science, technology, health, environment, politics and society. But who is reading it?
Well, we recorded more than two million views of our content in February, then exceeded that figure in March. April saw us record just short of two-and-a-half million. But these numbers are not restricted to our own site. The Conversation is providing content for a wide range of other high-profile media – free.
Established publications and news media including the Washington Post, the BBC, the Guardian, the New York Times, the Hindu, the New Zealand Herald, the Independent, the Daily Mail now regularly publish, link to and feature our work. Exciting new media projects such as Ars Technica, Quartz and Pacific Standard also republish Conversation content. That means millions of people around the world with very different reading habits are being informed, reliably about events, developments and discoveries shaping the world.
For all these groups we are a source of trustworthy, fact-based journalism. Comment and analysis you can count at in a time when there is a global, online fog of news and views – much of which is based on little more than conjecture and speculation.
The inevitable question that follows is: how are you funding this? The answer is so far from a mix of sources – twenty partner universities, some foundations and funding bodies. But the core business model is that universities and the higher education sector cover the costs. The aim is to develop this new intelligent, informed model of journalism globally.
The way ahead
A year from now, we expect The Conversation to be operating in more countries and exploring new ways of delivering smart content. So far more than 2,500 academics from more than 250 institutions have worked with our UK-based editors. We've seen a psychologist interview a former foreign secretary, a post-Soviet geographer report from the front line in Donetsk as the post-Soviet world enters phase of dramatic change. We've carried analysis of how scientists might clone a mammoth by the scientist who cloned Dolly the sheep. We've also shown that we can set, and dominate the news agenda – perhaps most significantly when a university vice-chancellor and former head of OFSTED chose the Conversation as the platform from which to mount a robust critique of the policies of Michael Gove, the education secretary.
What we cover in the next 12 months will be driven by events, but also by the vast range of research and development taking place in UK and international universities. We have begun to tap into a rich resource that is of enormous value to the general public, and as the next year unfolds we aim to uncover even more great talent and information. The Conversation is just getting going.