There are fundamental shortcomings in how "diversity" is conceived and practised in cultural institutions. The problem may be that the term itself undermines the complexities of the different and intersecting inequalities. That was the key finding of my latest research which also found that, in the context of race and ethnicity, this broadness can actually depoliticise the issue of racial discrimination.
Sociology academic Bridget Byrne and I examined ethnic representation in the creative and cultural industries and how institutional practices can reproduce or mitigate ethnic inequality. Along with media and race scholars Anamik Saha and Stephanie Guirand, we also conducted a survey to explore the impact of COVID and the Black Lives Matter movement on ethnic inequality in the sector. We had 720 responses to our survey and carried out 42 individual interviews
In the UK, diversity is an all-encompassing term that refers to several protected characteristics (including race, disability, gender and sexual orientation) outlined in the Equality Act 2010. However, there's been a particular focus on improving Black and ethnically diverse representation in recent years. This was especially so after the Black Lives Matter protests around the world in 2020.
In a bid to show they're actively pursuing diversity, many creative organisations and companies devised action plans varying in ambition and accountability.
When companies in the creative industries think of diversity they tend to think of increasing representation in terms of cultural output, workforce and decision making. At the heart of many of these plans was creating more opportunities for ethnically diverse cultural workers.
However, in a survey carried out by the University of Manchester of ethnically diverse cultural workers in the UK in 2021, only 14% agreed that more paid opportunities had become available. The same research found that there remains a feeling among ethnically diverse creatives and cultural workers that the appetite to diversify the creative sector may have been "a tick box exercise". So where are these companies going wrong?
Ethnic diversity in white cultural spaces
The creative industries remain fundamentally white spaces. The latest 2020/21 report from Arts Council England on equality, diversity and inclusion found that the national percentage of Black, Asian and ethnically diverse workforce in its national portfolio of organisations was 14%. This is compared to the English working-age population, which is 17% Black, Asian and ethnically diverse.
However, looking at London they represented only 20% of the workforce in Arts Council England's portfolio of London-based organisations. This is in a working-age population that Black, Asian and ethnically diverse people make up 46.2%.
Working in spaces that are mostly white creates anxiety and feelings of being "out of place", according to our study. That has a ripple effect on retention and progression with significant consequences on hiring practices and on "getting in and on" in the industry.
One of the main "fixes" that has been widely adopted to diversify the creative industries are diversity schemes. These programmes aim to increase the access and progression of ethnically diverse cultural workers.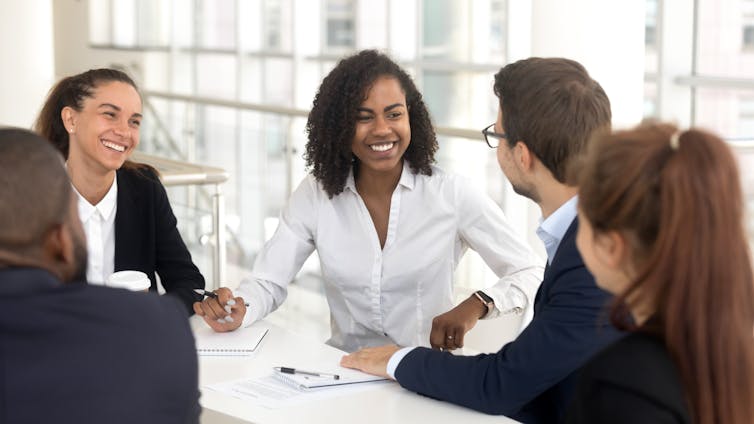 They might sound like a great idea, but we found that they tend to be limited in scope and legacy as they are often dependent on finite projects and funds.
Positive discrimination is illegal under the Equality Act 2010. However, "positive action" that seeks to help people who might be disadvantaged because of discrimination based on a protected characteristic like race is permitted for short term and entry level positions, like internships.
Diversity issues can not be solved by isolated short term bottom-up approaches that just target junior roles. Concerted efforts must be made to hire diversely across all levels, including in mid- and senior positions.
Of course, there are other efforts to increase diversity within institutions such as diversifying members of boards, actively engaging diverse audiences and offering diversity training for staff. While all these initiatives are important, the issue of increasing ethnic diversity within the creative workforce faces slow progress. It seems that diversity initiatives are yet to make substantial structural changes towards ethnic equality.
Anti-racist practices are the way forward
One reason why current attempts have not quite delivered may be down to the broadness of the term "diversity", which undermines the complexities of the different inequalities people face. In the context of race and ethnicity, this broadness can also depoliticise the issue of racial discrimination.
In the case of ethnic and racial inequality, it is useful to ask what the language of diversity is aiming to obscure. As Sociologi st Herman Gray asks: "why diversity not (in)equality?" We might also ask, "why diversity not anti-racism?"
To address a problem, we first need to name it correctly to find the appropriate solutions. If one aim of diversity is to address ethnic and racial inequality, then we need to explicitly adopt the language and practices of anti-racism.
For diversity efforts to be effective, cultural organisations and funding bodies need to ringfence targeted long-term investment.
There is already a body of established research that highlights the economic, organisational and ethical value of diversity. Several highly regarded reports have also highlighted the social and cultural urgency for diversity.
Rather than considering diversity initiatives as a one-way stream benefiting their ethnically diverse "recipients", organisations need to understand the urgent socio-economic demand for diversity. The value of ethnic diversity will be glaringly obvious when organisations interrogate their structures, ethos, audiences and changing markets and habits of cultural consumption.
Promoting diversity and combating racism should be a comprehensive and integrated effort within an organisation. It should incorporate both a grassroots and leadership approach.
For a truly representative, competitive and ambitious cultural sector, its organisations need to be bold, uncompromisingly anti-racist and open to re-imagining their structures and thinking.