When Nicky Morgan announced that her preferred choice for the next head of the schools inspectorate Ofsted was Amanda Spielman, she described her as having "extensive experience at the frontline of the education system, making her uniquely qualified to take up this important role."
But now the secretary of state for education has had to defend her choice after a report from MPs on the Education Select Committee raised grave doubts about her suitability for the post's vast remit following a pre-selection hearing.
Spielman is the current chair of exam regulator Ofqual and former director of research and policy at the academy chain Ark Schools. Although she has won the support of some in the education sector, many believe that she is not the right person for the job
MPs said "we are unable to give our support to her appointment". Although this a rare move, it is not unprecedented.
However in a letter in response to the report, addressed to its chair Neil Carmichael, Morgan stated she was "surprised and disappointed" by the MPs' response but has decided to "proceed in recommending " Spielman's appointment.
A huge remit
The role and remit of head of Ofsted, a role also known as Her Majesty's chief inspector of schools, was vastly expanded following the 2003 Lamming Report into the death of Victoria Climbié. This highlighted a number of failings in the care system, most notably in the lack of a joined-up approach in safeguarding children. The report resulted in multi-agency collaboration which left Ofsted not only responsible for inspecting education but social care and childminding, too.
Since then, the agency's work has been further complicated by the sweeping and rapid changes to the education system in England. In the aftermath of the Trojan Horse affair, in which schools in Birmingham were accused of promoting extremism, Ofsted's role as an aegis of robust independence from government was left in doubt. The aftermath of the affair placed a considerable emphasis on the agency to ensure that the counter-extremism Prevent strategy is being implemented across all settings within its remit.
Although experience of teaching is not a requirement of the post – the specification asks for senior experience in education – it is difficult to imagine how someone without that experience could successfully inspire the respect and credibility with the profession that is core to the current role.
Over the last six years, Ofsted has done an enormous amount to build that relationship. They have employed current headteacher as inspectors – in spite of possible implications such as the risk of them becoming "too cosy" with the profession they inspect. They have also ensured that all recruitment has been brought in house rather than being contracted out to agencies as was previously the case.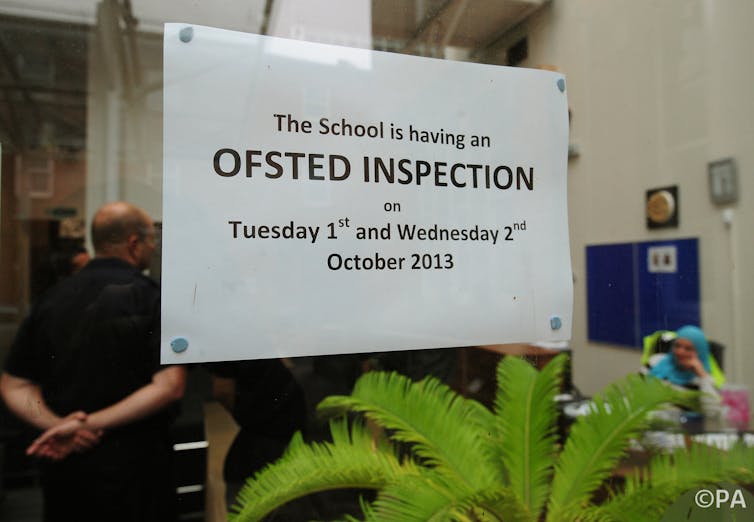 These changes aim to place inspection as central to the ideal of "self-improving" schools which exist not in silos or pockets of excellence, but which collaborate together to raise standards in teaching and learning – so improving the lives of young people.
Passion key to success
There is little doubt that any chief inspector must, at their core, be possessed of passion: a passion for education and a deep and abiding passion to improve standards in education and social care. While some former chief inspectors were unpopular due to their pugilistic rhetoric, others have expressed their commitment by their deeds rather than their ablity to make headlines.
Research shows that practitioners in all fields covered by Ofsted enter their professions motivated by a deep and abiding passion to improve the lives of the young people in their care – a passion that gives them the professional resilience to carry on when the going gets tough. Yet it was this passion that appeared to be absent during Spielman's interview in front of MPs, articulated in their report as a parroting of Ofsted's mission statement without any real substance as to how she would translate this into practice.
In search of a vision
Research at The Open University Business School has illustrated that vision represents a core element of successful leadership – this combined with the ability to form and shape that vision into strategy.
My work with colleagues into implementation of inspection policy across seven OECD countries shows that inspectors and inspectorates have a very powerful effect on education policy. They are not only policy implementers but policy shapers, too, so it is vital that anyone leading such an organisation is fully cogent of the need to build bridges and create an environment that is conducive to improvement.
According to the MPs' report, Spielman failed to convince them of this vision. This would be concerning at the best of times, but is even more so given the uncertain political climate that has prevailed since the UK's vote to leave the EU. A climate marked by feelings of insecurity, instability and fear of change. This combined with the deeply contentious education reforms that have taken place since 2010, makes for a particularly volatile environment.
I have written on many occasions about my firm belief that Ofsted is spread far too thin to be effective partly because of its vast and ever-growing remit. As the committee of MPs recommends, it is time for government to recognise this and look seriously at the structure and organisation of the agency, reflecting this in the leadership structure.
Any future Ofsted chief inspector needs the understanding, wisdom and vision to take a cold hard look at this many-headed beast and all of its facets. They should be able to articulate a clear vision and an operational awareness of where exactly inspection should feature within the complex landscape of educational accountability and how best to achieve that vision. If they don't have this ability then they are clearly not the right person for the job.