The federal government's recent announcement of national consultations on "digital and data transformation" was a long time coming. It's been clear for years that "Big Data" and digital communication technologies are reshaping the foundations not only of our economy, but of society itself, and must be addressed comprehensively.
The Ministry of Innovation, Science and Economic Development will be holding a series of regional roundtables with business, academic and civil society organizations that will include women, Indigenous peoples and other under-represented groups. Canadians can also submit comments online.
These consultations demonstrate that the government recognizes the need for input from Canadians in designing a strategy that will benefit all Canadians.
But while it would be easy to say "finally!" and feel gratitude that the government is going to talk with Canadians about how to address one of the biggest social issues of our time, the consultations' primary focus on the economic aspects of data governance is too restrictive. It raises questions about whether it will adequately address the breadth of issues a national data strategy must cover.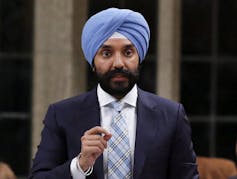 The consultation does get two important things right. It is heartening that Navdeep Bains, the innovation, science and economic development minister, is calling for a diversity of public viewpoints given the all-encompassing nature of the issue.
Also, relying on structured questionnaires rather than just asking Canadians to submit briefs on a "data strategy" will go some way toward compensating for the general lack of deep public understanding of these issues.
That said, some background briefs explaining what something as seemingly simple as what "personal data" actually is would be helpful in producing informed responses.
Too narrow
However, despite the emphasis on a diversity of viewpoints, the framing of the consultations themselves is much too narrow.
It emphasizes data governance as primarily an economic and innovation issue, rather than viewing it from a wider perspective that emphasizes both its social and economic elements. That the consultations have already begun, with a roundtable featuring 20 industry leaders being held on the day of the announcement, further suggests the unbalanced nature of this process.
Canada's place in the global data economy is an important issue, and the consultation's questions do a good job of addressing this particular topic. However, what's missing is a broader appreciation of data's place in the wider society.
The possibility that some data should never be collected is not presented as an option in the online consultation questions. For example, should companies be permitted to design or operate facial-recognition systems that amass biometric data, and under what circumstances should governments be permitted to do so?
---
Read more: It's time we demanded the protection of our personal data
---
The issue of the government's collection or use of data isn't addressed. This is a particularly important question given the emerging research highlighting the fact that algorithms and big data sets themselves contain inherent biases.
These issues are highly relevant to the consultations, given the increasingly tight relationships between the public and private sectors.
Blind spots
The online questionnaires also have some blind spots.
The issue of trust is linked only to data breaches, and not to the use of data for socially questionable purposes, such as micro-targeting of political ads. They neglect the possibility of social control of data (as opposed to individual or commercial ownership).
---
Read more: Preventing social media from interfering in Canadian elections
---
They treat privacy as merely a personal issue rather than as a collective one. For example, one person's decision to upload a DNA sample to an ancestry site can reveal sensitive genetic information about their entire family.
The questionnaire also fails to mention the important issue of cross-border data flows. Free cross-border data flows can make it easier for Canadian data to leave the country, making it more difficult for the Canadian government to regulate Canadians' data, while the benefits accrue to non-Canadian entities.
This isn't to say these consultations won't have value. But the value will be limited based on what we've seen so far.
A proper, full consultation on a national data strategy must begin from a digital-rights perspective of the kind being promoted by the Digital Rights Now campaign. This campaign, which is being run by the digital-rights organizations Tech Reset Canada, the Digital Justice Lab, and the Centre for Digital Rights, is calling for "a national conversation about digital rights" and a "digital rights strategy."
Such a consultation and strategy would address innovation and prosperity issues, but within a context that emphasizes the effect of data governance on, "our quality of life, the governance of our economy, and the safety of our democracy."
The transformative nature of our move to a data-driven economy and society means that any data strategy will have long-lasting effects. Asking the right questions, to the right people, in the right way, is the crucial first step toward creating a policy that is in the best interest of all Canadians.