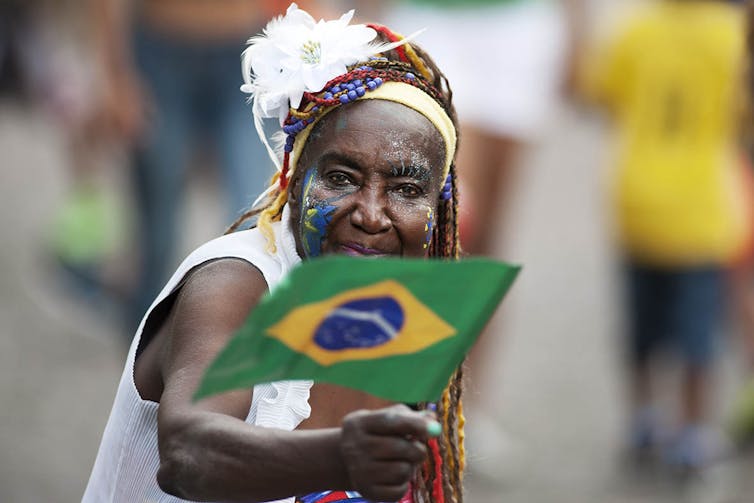 The launch of the photographic exhibition "The ball's female owners" was one of the most socially relevant experiences in the months before the World Cup. The exhibition, displayed in an important cultural performing space in the heart of São Paulo, highlighted the work of 11 Brazilian female photographers who documented the "presence and the importance of women in the football culture across the country", according to the exhibition's curator Diógenes Moura.
The exhibition, which later was released in a book of the same name, is full of football metaphors. From the number of photographers (11, as in a football team) to its name and contents, its organisers utilised words and images to question the gender order during the moment where "everything is running around the ball" in Brazil – as underlined by Diogenes Moura, in another football allegory.
Football metaphors pervade Brazilians' daily conversations – and not only during the World Cup. Football allegories are used in Brazilians' sporting lives, but also in their work or social life. You better be careful if you are "on the penalty spot" in your job – they might kick you out. Your relationship can be in "extra time", coming to an end, or even "nil-all" if nothing has happened yet.
The "ball's owner" is one of the most used football metaphor in daily Brazilian Portuguese language. The ball's owner is the one who has the power, or who is in charge of something. From the kid who holds the only ball in a group and will leave if his teammates don't play the way he wants, to the boss who controls everything in the office, to the bouncer who says who comes in and out of the nightclubs – you better be friendly and keep an eye on the ball's owner.
However, the ball's owner is a male expression. That may sound weird to the monolingual English reader, but substantives in Portuguese have gender. For example, "the table" (a mesa) is a female noun. "The car" (o carro) is a male noun. One can say "o dono", meaning the male owner, or "a dona", meaning the female owner of something.
O dono da bola – the male ball's owner – has been traditionally used as a metaphor of the powerful men who control politics, business … and football. Of course, the ball's owner works as a very potent allegory as balls also symbolise phallic power, manliness and courage that allegedly only men have. The male ball's owner (o dono da bola) is really the one in command.
Therefore, by subverting the ball's ownership – by turning its possession to the women – the exhibition and book have reminded the public that Brazilian women have made a significant contribution to the way the country plays. Women want to have a voice in celebrating Brazilians' way of life – futebol.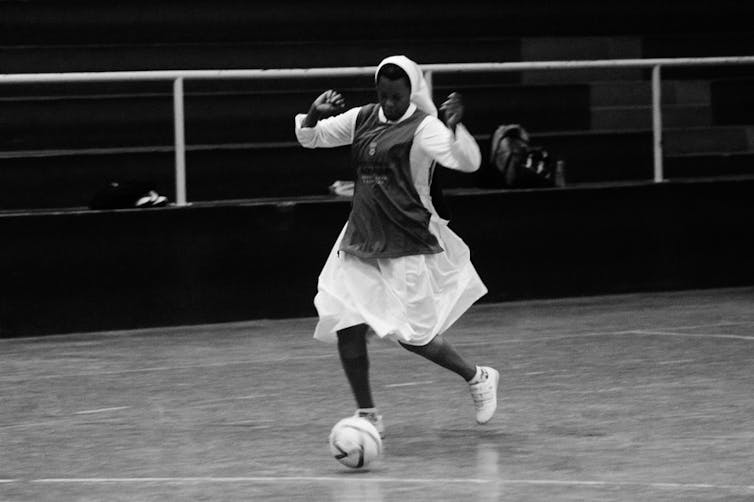 The enlargement of the "ball's ownership" also assumes special significance when we look at Brazil's sports history to discover that women have been officially forbidden to play football – amongst other "no women" sports – from 1941 to 1979. The official "sport sexist ban" was implemented in 1941 by the National Sports Council after decades where all sorts of connoisseurs were involved in civic arguments around the nature and limits of the feminine body.
As Dr Silvana Goellner points out, the 1941 bill excluded women from participating in sports such as martial arts and football that were considered unsuitable for the "female's body nature". The legislation was a death blow to an increasing number of female football teams that were appearing around Brazil.
Nevertheless, Brazilian women have always loved cheering and playing football – and they have been getting good results on the international stage as well. As soon as that sexist ban was lifted, many teams were set up around Brazil.
Even facing large difficulties and harsh conditions, with no state or national championships, very low wages, lots of social prejudice and managers' misogyny against them, Brazilian women have found a way into the world's top-level teams. They dominate the South American competitions, they have participated in every Olympic football tournament since female football was introduced in the Summer Olympics (1996) and they even won Olympic silver medals in Athens and Beijing.
And in Marta Vieira da Silva, Brazilian female players have found their very own representative in the pantheon of the world's best players. Born in a very small town in Brazil's northeast (Dois Riachos, Alagoas state), Marta is a tiny Brazilian woman who was awarded by FIFA as the world's female best player five times in a row (2006-10). So, she even beats Messi or Ronaldo Fenomeno, as both had received the FIFA's Golden Ball "only" three times each.
As with many top female Brazilian players, Marta has been playing abroad for most of her career, as it's still very hard for a female footballer to have a career in Brazil.
However, if the World Cup and its overwhelming male nature was to worsen things for women's football in Brazil, civil society found ways to resist and fight for gender equality within Brazil's major cultural institution.
In the wake of the World Cup, exhibitions and debates have been organised around Brazil. They have "gender equality in football" as their central theme, and displays such as "Futebol para a igualdade" in the Museu da Republica in Rio de Janeiro aim to retell women's football history in Brazil from their own perspective.
The interactive exhibition has also developed new ways for boys and girls to play football together, with no adult supervision or refereeing. Workshops and open lectures have been organised so participants can learn how to use football as a tool to create a better and more inclusive world.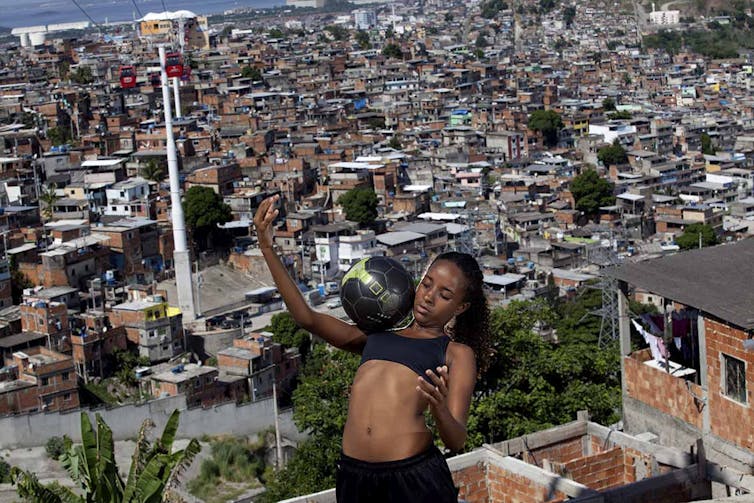 In Porto Alegre, one of the World Cup host cities, the Centre for Sports Memory of the Universidade Federal do Rio Grande do Sul has organised an exhibition to tell the history of women's football in Brazil.
With photos and sports memorabilia from famous female players and newspapers articles amongst the items on display that account for the late and recent history of female participation in the football, this exhibition has been an eye-opener for its visitors (school children and general population). It has reminded visitors of the huge but invisible presence that women have always had in Brazil's football history.
The chair of this exhibition, Dr Silvana Goellner, says that it's on the streets and in educational projects – funded by federal and local governments or by NGOs – where it's possible to see the growing visibility of girls "owning the ball". They want to participate in the football world, and they will fight for it. They will not wait anymore, they will make things happen.
Female professional football might still be overshadowed in Brazil not only by the overwhelming presence of male football, but also by a continuing misogynistic mentality with its historical roots. However, as Juliana Cabral, the 2004 Brazilian Olympic team captain and silver medallist once declared:
The girls don't need to have the same amount of money as the boys have; we know this is a corrupted industry, and we don't want to take part in this dirty world; but we do want to play our football with dignity.
Juliana's cry was an isolated call for change in the sports world. Let's hope the Brazil World Cup brings a new era of gender equality into the once-macho football world.
As the exhibitions and social projects are demonstrating, this will not happen by "football magic". Instead, it will require a huge fight to transform conservative mentalities. But it looks like the Brazilian women – and their supporters – are ready for this battle.