These days it is almost impossible to say anything moderately optimistic about climate change.
But geographers, archaeologists, historians, agronomists and biologist can show some positive effects, because they allow for the immense creativity and resilience of human societies, and of living things in general, as demonstrated throughout the ages and across the great variety of different habitats on the planet. One of those positive effects could be the evolution of wine.
Continual advancements in wine-making
Wine-making is a branch of agriculture that arose from whim rather than necessity, as an expression of cultural identity. It has shown itself capable of adapting to the various climatic changes that have occurred in the last 8,000 years, since Vitis vinifera was first domesticated and disseminated. As a result, its methods – and the quality of the wine produced – never ceased to improve.
The Little Ice Age (from the 15th to 19th century) is a good example of this phenomenon. Northern Europeans had learned to grown vines under sunny skies. But the falling temperatures of the Little Ice Age forced them to abandon what had become an increasingly uncertain crop, and look to the south to satisfy the requirements of Christian worship, via Holy Communion, and the emerging taste for good wine, which had become an essential part of life in more refined circles.
This is why we now have beautiful vineyards on the Atlantic (Saintonge, where wine is distilled to make cognac; Bordeaux in France; Alto Douro and Madeira in Portugal; Jerez and Constanti in Spain) and the Mediterranean in Spain, Sicily and Cyprus.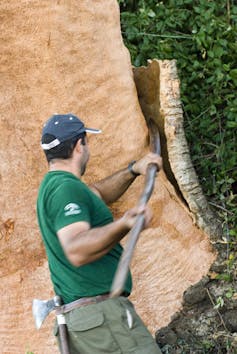 Shipping delicate wines by means of long sea journeys also sparked ingenuity. This is how the Dutch invented the sulfur stick that was burned to sterilise the barrels. The English began fortifying wines with spirits in order to stabilising wines containing a great deal of residual sugar post-fermentation and, along with the Flemish, invented thick black wine bottles made in coal-fired furnaces. These were useful for portioning out the contents of a barrel and could prolong the ageing process – as long as they were capped with a cork made of a natural material discovered by the English in Portugal.
In the remaining northernmost vineyards, the cold prevented the grapes from ripening properly. The resulting wines were often terribly sour. In addition, the final stages of fermentation were hindered by the arrival of the first cold front and would not resume until the following spring.
These two problems eventually led to invention of the bubbles in Champagne, by adding sugar from the Caribbean to the very young wine and keeping it in tightly corked bottles, causing second fermentation and heavy carbonation.
Roasted grapes
The opposite phenomenon has now been occurring for some time. Rising temperatures – interspersed with climatic anomalies such as the late frosts that occurred across Europe last spring, devastating many vineyards – are having troubling effects.
At the other extreme, varieties of grapes with very thin skin are roasting in the sun in hot weather. Until now, the leaves of these vines were thinned so as to let in more sunlight. Grapes are ripening too early overall, and the harvest must be carried out quickly so as to maintain some level of acidity and eschew heavy, flat-tasting wines with a high level of alcohol and a short shelf-life.
This trend is not only visible in southern regions but also far north, in France's Alsace region, for example. And during very hot summers, water scarcity can be so severe that many grapes dry on the vine before ripening.
The emergence of new methods
New methods must be developed, and this is very much an ongoing process. To begin with, vineyards with too much sun exposure (such as those in southern plains and slopes facing south) should be discarded in favour of higher ground (for example, the upper areas in the Napa and Sonoma Valleys in California, the mountains of Cévennes and Priorat in France and the Golan Heights or the Judean Hills in Israel); or areas facing north (Ventoux, Lubéron, Alpilles, Corbières in France). Eventually, this could also apply to regions further north (France's Valais, Condrieu, the northern part of Côtes-du-Rhône, Beaujolais, and even Burgundy).
Newly planted vines will have to be irrigated to ensure their survival, but cautiously and just for a few years, for deeper rooting.
Soils will need to be carefully selected to reflect changing circumstances. Total or partial ground cover could prove to be an effective means of preventing excess evaporation in certain kinds of soils.
The way we train vines – pruning and trimming in particular – should be adapted so that ripening occurs at regular intervals. And we should not be so dogmatic about vine varieties.
Northern bound
Moving vines further north could produce benefits. Pilot plantations of Marsanne and Syrah grapes in Beaujolais show promise which, once confirmed, should lead us to reconsider the current legislation on protected designation of origin. Making red wine out of Pinot-Noir grapes in Champagne would probably result in some very good wines, as it already has in Oregon, southern Germany, Austria, and the Czech Republic.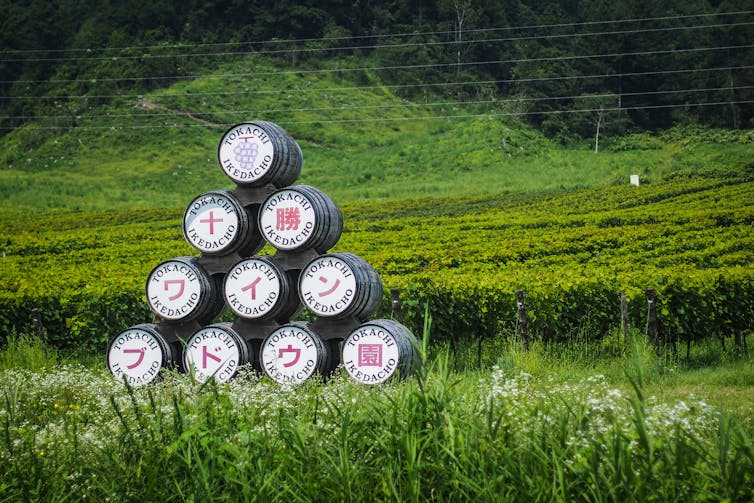 Traditionally, the Japanese Island of Hokkaido, with its Siberian-like winters, only produced mediocre hybrid varieties of wine. Today, forward-thinking winemakers are producing very fine wines using white grape varieties from the Rhine region. England is once again being covered with vineyards, producing great wines.
One fact is particularly telling: Queen Elizabeth had 16,000 vines of Pinot-Noir, Pinot Meunier and Chardonnay planted in Windsor Great Park to produce her own sparkling wine. Champagne, which up until now hasbeen used for royal toasts, had better watch out.
The bottom line is, nothing is lost, and no tragedy will befall good wine growers and wine lovers should climate change continue.
It will be quite a while before Greenland becomes a wine-growing region. In the meantime, we won't be short of a drink. It's also worth noting that we now produce more good local wines across all latitudes than ever before in the history of winemaking.
Translated from the French by Alice Heathwood for Fast for Word.