The notion that Australia is running a two-speed economy has been around for some time. Back in 2006 before the Global Financial Crisis (GFC) the Sunday Times contacted me to ask what the longer term outlook for the economy might be. The Western Australian mining and resources boom was reaching its peak, housing prices were soaring and employers were crying out for skilled workers.
Becoming a Zebra economy
While acknowledging the benefits from the boom, I warned that we may be at risk of developing what Japanese management writer Kenichi Ohmae describes as a "Zebra Economy". According to Ohmae a "Zebra Economy" emerges when economic growth within a country is uneven, resulting in "white" areas that are experiencing rapid growth, while other areas remain "black" and under developed.
My warning was that the WA economy was at risk of becoming a "Zebra" with some areas racing ahead while others languished. There was a need for greater investment in infrastructure, better long-range planning for workforce skills building and housing. I called for a greater emphasis on planning for change, investment in R&D, strategic land planning and infrastructure.
The GFC didn't change things
Six years and a GFC later the economic growth in WA has continued, driven once again by mining and energy investments. The notion of a two-speed economy has now been replaced with that of a "three-speed economy". This was proposed by CommSec who noted that the WA economy was now so far out in front of the rest of the country that it sat in a class by itself. In second place came Victoria, South Australia and the ACT, with Tasmania, NSW, Queensland and the Northern Territory in third place.
For those connected to the mining and energy sectors the outlook has been positive. According to the Australian Bureau of Statistics (ABS), substantial investments in new mine and LNG projects have seen jobs in the mining and energy sectors rise by around 71,000 over the period 2010-2011. Construction sector employment rose sharply over the past two years as a result of the investment in major resource projects. This growth in construction activity is expected to continue through to at least 2013 when investment peaks.
However, the story has been less positive for those in manufacturing, retailing and services. The high Aussie dollar has impacted on exporters and structural changes due to new technologies have also played a key role in damaging some businesses. For example, the number of manufacturing jobs fell by around 63,000 during 2010-2011. Pain was also being experienced in tourism, retailing and the trade in international education services.
Income inequality has worsened
According to the OECD Australia's level of income inequality over the past decade has worsened. As illustrated in the two figures shown below, the average income of the top 10% of Australians was nearly 10 times higher (at $131,300 per annum), than that of their counterparts at the bottom 10% (at $13,700 per annum). This is a massive increase since the mid-1990s and has continued to rise since the GFC.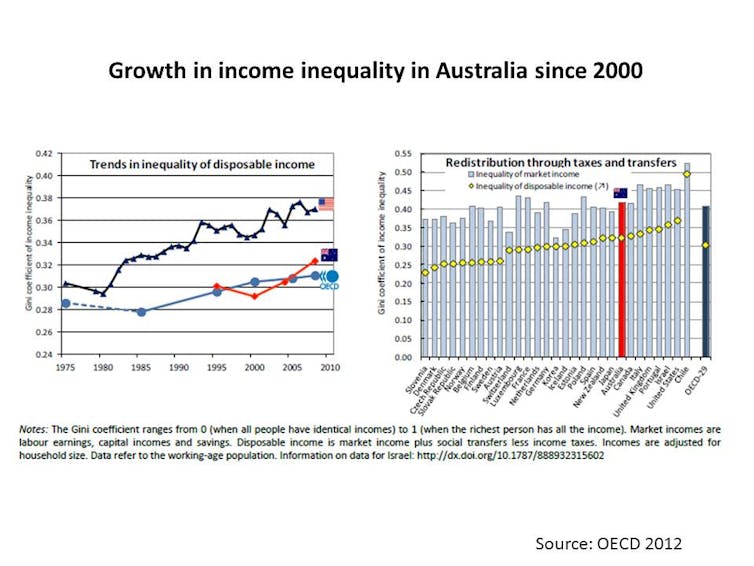 Australia's richest 1% enjoyed a doubling of their share of total national income, up from 4.8% in 1980 to 8.8% in 2008. At the same time the top marginal tax rates fell from 60% in 1981 to 45% in 2010. Since the mid-1980s the annual hours of Australia's low-wage employees has fallen from 1,300 to 1,100 hours, while those of higher-wage employees have remained stable at around 2,300 hours. For low income and unemployed Australians the gaps keep widening.
When compared to the United States and Europe the Australian economy is doing very well. For those with a job, particularly one that is linked to the lucrative mining and energy boom, life could not be sweeter. However, we should not ignore the plight of those languishing in the "black" zones. This is a challenge for both sides of politics. Failure to get it right will place at risk the egalitarian nature of Australian society of which we have always felt so proud.
What can be done?
According to the OECD the solution is not easy, but it is potentially achievable. We must do more to invest in human capital, which involves increasing our spending on education and training at all levels. Workers must be given incentives to invest in their own skills and education throughout their working life. There needs to be ongoing and substantial investment in apprenticeships and training places, with a strong tripartite alliance between federal and state/territory governments and industry.
Taxation reform is also needed that ensures that income is more evenly distributed, but without creating a welfare state mentality. There must also be ongoing investment in high quality public services such as education, health and family care. Women, who make up 50% of the population, must be assisted to balance the often competing demands of child rearing with career development.
At the national level there is a need for greater investment in infrastructure projects that can do more than simply play catch up to the mining and energy boom. Australia needs to invest in green technologies, and the greater use of intelligent systems in the management of road transport and water supply. Such initiatives are already emerging, but their critical longer term importance should not be overlooked in a short term scramble to secure budget surpluses or political goals.
Finally, there must be a longer term vision for the Australian economy out to 2032. Our population – currently estimated to be around 22.9 million – will have grown to around 30 million. We will need to have diversified our economy away from its current excessive focus on minerals and energy. Ideally, our education and training sector will be viewed as internationally competitive and our tourism sector will continue to attract people from around the world. Further, our investment in infrastructure and affordable housing will have delivered a legacy of well planned, liveable cities. All of this should be within an environmentally sustainable context that benefits from the emergence of new green technologies.
To do anything else would risk turning Australia into a Zebra.