How far do policies announced during the 2016 federal election campaign go towards addressing key policy issues for non-metropolitan Australia?
Much of what we've heard has been packaged up in funding announcements. Most of these are followed by accusations of overspending, pork-barrelling and/or incompetence.
Still, there is a compelling simplicity to funding announcements. Dollar values take the complexity out of policy communication. Numbers in the millions say, "we're serious about this". Numbers in the billions say, "we're really serious".
Contrast this with more considered approaches to policy development. In recent years, federal governments have released white papers on agricultural competitiveness, Northern Australia, energy and the food industry. None of the major parties have promised to review or change the policy directions set out in these documents. Neither have they promised to initiate new white paper processes in other policy domains important to rural and regional Australia.
The obvious conclusion is that non-metropolitan Australia can expect little substantial policy reform regardless of who wins the election. True, planned changes may not have been announced. But there has been little to suggest over the last decade or more that the major parties have substantially different views on key areas like agriculture and trade.
What significant policy movement we did see following the last election had been clearly signalled during the 2013 campaign. We all knew the incoming Coalition government would be investing in Northern Australia, paying farmers to store carbon in soils, establishing the Green Army and rationalising Indigenous programs into one agency.
Many will be surprised at how little debate we've seen during the 2016 campaign about these initiatives.
Infrastructure
Despite (or because of) the potential for major infrastructure projects to create local opportunities there have been myriad like-for-like announcements.
All major parties are promising to fund road upgrades and to contribute A$100 million towards a new football stadium in Townsville. All support extension of the Mobile Black Spot Program. None have proposed unwinding existing initiatives such as the $5 billion Northern Australia Infrastructure Facility or $2 billion National Water Infrastructure Loan Facility.
North Queenslanders will be happy about the stadium funding, just as other communities will be pleased to receive support for local projects. Lack of detail on energy and information and telecommunications (ICT) infrastructure, however, will be a disappointment.
Modern ICT offers substantial opportunity to improve the competitiveness of rural industries as well as to reduce social isolation. Rural people are acutely aware of this. They want more than finger pointing over who is responsible for problems in delivering the National Broadband Network.
Unemployment
All major parties propose policies to promote national employment growth – for example, using trade agreements to expand exports and economic growth. However, place-specific strategies are also needed to deal with rural and regional unemployment due to variation in the composition and dynamics of non-metro labour markets.
Place-specific employment strategies have certainly not been absent from the campaign. They do, however, lack coherence.
In Cairns, for example, the Coalition has promised $20 million for businesses willing to employ local workers and $10 million for an Innovation Centre linking students, researchers and entrepreneurs. Cairns is my town and I'll be happy to see projects like this go ahead.
Other electorates provide similar examples of nationally small, but locally significant, commitments to tackle unemployment. The question will be whether we can learn enough from these to generate more widespread impact.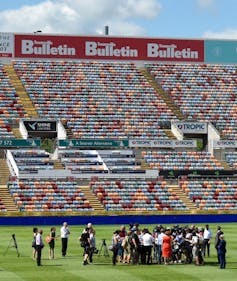 Townsville is particularly interesting in this regard because there is an overarching conceptual framework that, if successful, could be replicated elsewhere. Following the lead of British cities, the Coalition has promised a "City Deal" for Townsville. This is intended to integrate long-term infrastructure investment across all tiers of government to boost productivity and employment growth.
Implementing City Deals (or something like them) will require bipartisan support and meaningful negotiation with local stakeholders. Such a process will stand as a direct challenge to ad hoc, announcement-driven campaigning in future elections.
Diversification and new economy jobs
Innovation and STEM (science, technology, engineering and maths) are very much terms in vogue. Labor and the Coalition alike are spruiking their role in the development of the rural R&D system and launching a host of additional innovation programs. Agriculture and mining will both rely heavily on research and innovation in ICT, robotics and (for agriculture) genetics to maintain their competitive edge.
This will mean that, regardless of whether or not they are profitable, agriculture and mining will also employ fewer and fewer people.
So what is the plan then to boost innovation and research in ways that diversify rural and regional economies? Is it enough to ensure that at least some of the national expenditure on research and higher education lands in the regions?
Labor is promising to create a network of 20 regional innovation hubs. While it is difficult to imagine that expenditure of up to $500,000 per hub over three years will itself be transformative, at least it demonstrates awareness of the need for regional specificity.
Similar conclusions can be drawn about the Coalition's Industry Growth Centres and promise of an innovation centre in far-north Queensland.
Both parties' regional innovation commitments have merit, but greater and longer-term investment will be required, I suspect, to achieve any kind of scale outside established industries. City Deals (or let's call them Regional Deals) that are as focused on knowledge and innovation infrastructure as they are on transport, energy and communication infrastructure might provide a useful framework.
Indigenous participation
A Senate inquiry into the federal government's Indigenous Advancement Strategy identified multiple failures. The National Congress of Australia's First Peoples released a statement calling for urgent and far-reaching reform of Indigenous affairs.
Yet we have heard nothing of substance from either the Coalition or Labor about their plans for Indigenous affairs.
Health, education and social services
Through this campaign we have heard many claims about how much money has been removed from the human services and health portfolios, or been misspent, by previous governments.
We have heard claims about secret plans to privatise services like Medicare. But we have heard little of substance about rural health, education or social services.
Climate change
The bleaching of the Great Barrier Reef ensured climate change figured somewhere in this election. The Greens aside, though, no-one has campaigned hard on climate change. Nor have they released new policies.
Despite all the claims and counterclaims about climate policy, both Labor and the Coalition have proven keen to talk up their support for carbon farming and revegetation.
It's easy to see why the major political parties want to talk up carbon farming – it offers landholders a potential source of income while sidestepping politically messy arguments about the reality of climate change.
At some point, though, these arguments need to be had.
Natural resource management
Discussion about natural resource management through this campaign has been almost exclusively focused on how much money (those funding announcements again) will be spent to protect the Great Barrier Reef.
Improving water quality by improving land management in the reef catchments is an important thing to do, but lack of detail on how money will be spent makes it difficult to compare the real value of electoral promises.
We know even less about the implications of these promises for land and water management outside reef catchments. Will the politics of the Greater Barrier Reef revive our national commitment to sustainable resource management? Or will money be siphoned from other resource management programs to pay for the reef's protection?
Agriculture
Agriculture arguably receives more policy attention than any other predominantly non-metropolitan industry.
White papers, policy reviews and industry plans emerge with remarkable regularity.
Again, though, these do not reveal major policy differences between the major parties. Trade agreements, biosecurity, export support, agribusiness development, foreign investment and so on are shared priorities.
To the election …
Lack of policy differentiation on national issues will not necessarily be mirrored on an electorate-by-electorate basis. The importance of local projects – a road upgrade here, a boat ramp there – cannot be dismissed. Any local member capable (or seen to be capable) of getting things done will increase trust in themselves and their parties.
As the major parties blame their opponents for everything that is wrong with the world one moment and then echo each other's policies the next, trust will be an important factor.
The wild card in all this is the independents. Katter's Australian Party and the Glenn Lazarus Team are campaigning to restrict foreign investment in land. In the event of a hung parliament the major parties will need to start negotiating.
Who knows what they'll be willing to trade off?