While the nations at the UEFA Euro 2016 championships have done battle on the pitch, an equally intense battle has been taking place off it between brands that want tournament exposure. Sponsors such as Coca Cola, McDonalds and Carlsberg spend multiple millions to be associated with the Euros, but they have also had to compete with a bunch of mischievous brands seeking to attach themselves in an unofficial capacity.
This so-called ambush marketing is an established phenomenon, but social media has become the perfect new vehicle for it. We've seen this from monitoring marketing activity on these platforms during Euro 2016. UEFA regulations sometimes making it tricky for official sponsors to respond quickly and effectively to events in the campaign, and these ambushers could undermine the value of one of the hottest tickets in advertising – not to mention other major events.
The official sponsors of Euro 2016 are heavily active on social media, of course. Where once 30-second commercials on prime time TV dominated advertising, the likes of Twitter and Facebook have become hugely important in recent years.
Football fans will be familiar with the relentless scrolling of rotational signage at Euro games showing the hashtags of official sponsors like #probably (Carlsberg) and #MakeYourDebut (SOCAR), and that's only the tip of the iceberg. A wander through the Twitter, Facebook, or Instagram accounts of these sponsors – others include Continental Tyres, Hyundai-Kia and Turkish Airlines – reveals a mix of the usual competitions, promotions and user-generated content.
The Iceland cometh
But beyond this closed circle, a world of brands use social media to draw attention to themselves by ambushing their rivals. One of the stars of Euro 2016 is Iceland – the British frozen food chain. When Iceland qualified for Euro 2016 as the unfancied minnows, their supermarket namesake signed a deal to sponsor them. It has been wreaking havoc ever since.
Iceland's 1-1 draw with Portugal on June 14 was a good example. The retailer trolled Nandos, an international restaurant chain with a Portuguese theme, and goaded Portugal striker Cristiano Ronaldo with the offer of chopped onions, to the delight of Twitter users (see below). Though admittedly Iceland was mocked because Nandos is South African not Portuguese, it still drew attention away from official tournament sponsors while undermining a (non-sponsor) rival in the food and drink business.
At the same time, the chain ran a prize draw for fans to win a year's supply of Iceland shopping by tweeting the hashtag #ComeonIceland. Traffic was partly driven by former Premier League player Jimmy Bullard tweeting himself dancing around wearing an Iceland shopping bag as a "football kit", which prompted some fans to follow his example. This helped the chain to leverage social media's potential for getting the public to produce branded content for you. Bullard's original tweet attracted around 2,500 retweets and 2,200 likes.
Betting company Paddy Power is another ambusher that is savvy with social media and has been tweeting constantly during the tournament. One strand parodies player heat maps to poke fun at poor performances – one about Belgian international Romelu Lukaku's performance against Italy attracted nearly 1,000 retweets. Another tweet from the online gambler that joked about the Icelandic team's support during its game against England on June 27 was retweeted more than 300 times and liked over 450 times.
The activation problem
It is very difficult for official sponsors to compete with this kind of messaging because of the nature of their relationship with the tournament owners. When a brand sponsors a tournament they typically spend twice: once to acquire a legal right of association and then again on promotion around the deal to make sure it works properly – known in the trade as "activation". Carlsberg is reported to have spent upwards of €80m (£67m) on activation, for example, over and above the €40m it spent to become the tournament's official beer.
Before an official sponsor can start this activation marketing, it must adhere to UEFA's strict branding and guidelines. And before they start using hashtags, running competitions or engaging in any other form of activity, they must submit an activation request.
This means companies have to plan their messaging strategy a long way in advance. And because UEFA is concerned with protecting the reputation of the words and images associated with what is one of its marquee events, it can be cautious about what it will allow official sponsors to do. This leads to messaging that tends to be neutral and often lacks the responsiveness and innovative humour of many ambushers, all of which plays badly to the advantages of social media.
It poses a serious challenge for UEFA and the owners of other major sporting events – all of whom tend towards a similar approach. The International Olympic Committee tries to address it by obliging host nations to introduce anti-ambush legislation, but arguably this just forces ambushers to become even more creative and eye-catching. Paddy Power for example ran a campaign during the London Olympics in 2012 announcing itself official sponsor of an egg and spoon race, saying it was sponsoring the "biggest athletics event in London" – then pointing out it meant in the town of London in the French region of Burgundy.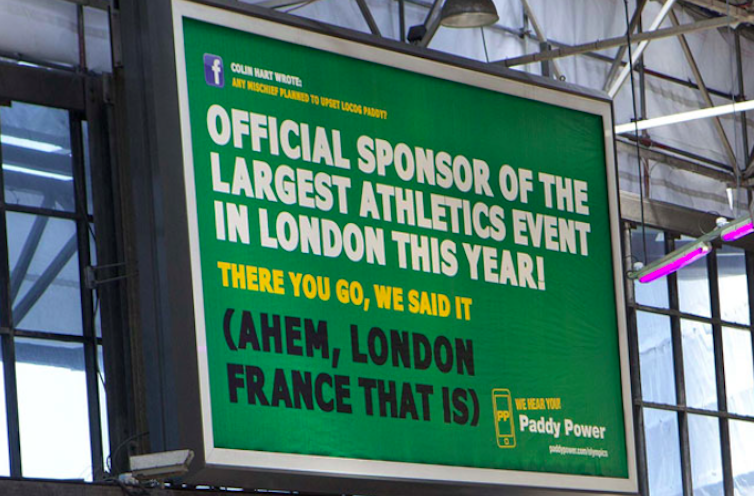 Social media is now so vital for advertisers, and the current situation potentially weakens the business case for spending vast amounts of money on sponsoring these events. It's not as if this is the only question mark against them either. Reported figures from a spontaneous recognition survey showed, for instance, that while 11% of people correctly identified Adidas as an official sponsor, 9% incorrectly thought that Nike was one, too. MasterCard, another sponsor, had a similar problem with Visa.
If major sports tournaments want to regain the upper hand in this brave new era, they might need to develop an approach suited to the instantaneousness of social media. Until then they risk jeopardising their proposition – an own goal if ever there was one.