The glistening white sails of Sydney Opera House and the red brick and bluestone of Geelong's industrial mills have little in common at first glance. But for both these places crowdfunding has led people to connect with these buildings.
Hubcaps to Creative Hubs (#Hc2CH) is a research project led by Deakin University. It aims to document the changing narrative of Geelong by creating a series of short films on how the community conserves and transforms the region's rust-bucket heritage into places of creative enterprise.
Working with Creative Geelong Inc, project funds have been successfully raised through Deakin University's Research My World program. This is an established collaboration with Australian-based crowdfunding platform Pozible.
Two buildings we are focusing on are the bluestone Fyansford Paper Mills, a world-class facility when it opened in the 1870s, and the red brick Federal Woollen Mills, which the federal government built in the lead-up to the first world war to supply cloth for military uniforms.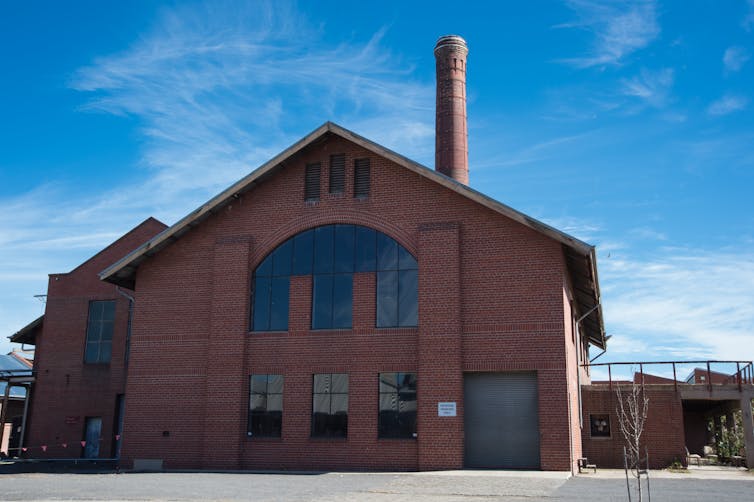 The growing importance of crowdfunding as a strategy for supporting research in Australia has been widely discussed. Increased engagement with research has been often cited as one of the benefits of crowdfunding. But what of its significance as a strategy for connecting people to the built environment? How does pledging to a project encourage attachment to place?
Lessons from the Sydney Opera House
The story of the Sydney Opera House is well known. Familiar elements include the creative vision of the young Danish architect Jørn Utzon, budget overruns and political turmoil, ending with the realisation of Australia's most beloved architectural icon.
What is less known is that a lottery partly funded the opera house. This was first drawn five years before the building's podium was completed.
While a lottery and crowdfunding are not the same financial mechanisms, both funding models ask the public to invest financially and emotionally.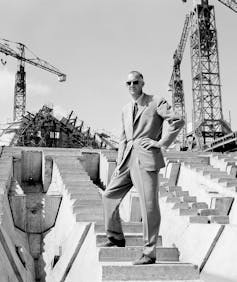 Utzon seemed well attuned to the potential of broad-based funding models to promote connections between the built environment and the community. Commissioned in 1958, Utzon told The Canberra Times in March that year that the lottery "would mean that people all over the world could feel they were helping to build the Sydney Opera House".
Just as a lottery would support the physical construction of the building, it would also build foundations for the opera house's social fabric.
For many who entered the lottery, the biggest prizes included glimpses of the building as it took shape. It was an indelible image that became integral to Sydney's distinctive character and a connection to an icon now revered as a World Heritage property.
Connecting community and places
The opera house has come to define Sydney's identity. It illustrates the potential for culturally significant buildings (including heritage places) to be anchors for communities formed by psychological bonds to places and their stories.
Sociologist John Urry suggests communities are formed by attaching "conceptions of communion" to topographic spaces. Social media have influenced and arguably accelerated this process of community formation by enabling psychological links between people, places and associated ideas and stories.
These connections generate an ever-increasing number of small but significant interactions with places and buildings as part of daily life.
As Monash University's Lucas Walsh has written, crowdfunding requires an effective communications campaign. Supporters need to be drawn in through compelling ideas and incentives. In the built environment or landscape fields, this means promoting and drawing on psychological connections to places, their history and what they may become.
The social interaction promoted between people and place through crowdfunding effectively conflates time by flattening a place's past, present and future into a mix of ideas, stories and physical materiality. This not only relates to heritage places, but to public spaces where platforms such as IOBY (In Our Backyards) have helped raise financial and emotional capital for a range of small-scale projects.
In this sense, both the crowdfunding process and its outcomes promote new forms of public engagement with great potential for forgotten or neglected spaces.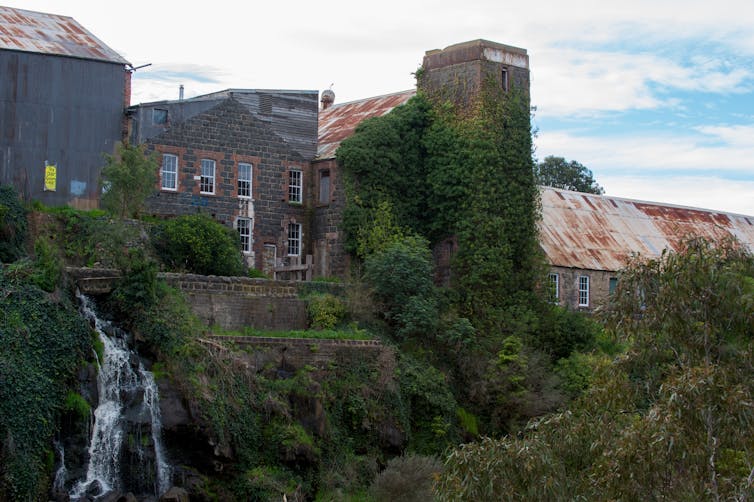 Tapping into old stories to tell new ones
The formation of communities around the Sydney Opera House and smaller grassroots projects through interaction with the built environment has interesting implications for Geelong's industrial heritage. Both the Fyansford Paper Mills and Federal Woollen Mills have a vital place in Geelong's story, if not the story of Australian industry.
Both buildings were made to last. Their scale and materiality reflects the ambition and sturdiness of Victorian industrial modernity.
And both have been abandoned for decades, before recently being rediscovered as homes for grassroots, post-industrial makers, artists and creative professionals.
Crowdfunding may not be needed to rebuild the physical fabric of these buildings, but it can do much to weave a new tapestry of social narratives through film and connections. These may then help turn these places from industrial relics to anchors of community, culture and creativity.