Today on Media Files, a podcast about the major issues in the media, we're taking a close look at the role of the news media in politics.
As the Wentworth by-election looms, we're asking: is digital disruption changing the rules of journalism and politics in Australia?
It is easy to miss how disorienting it can be to work in the always-on-at-fire-hydrant-strength world of political journalism these days, as Guardian Australia's political editor Katharine Murphy recounts in her recent essay-book On Disruption. Matthew Ricketson speaks with her to understand the media's role (if any) in the political turmoil that cost Malcolm Turnbull the prime ministership, triggering this month's hotly contested by-election.
---
Read more: Media Files: Spotlight's Walter V. Robinson and the Newcastle Herald's Chad Watson on covering clergy abuse - and the threats that followed
---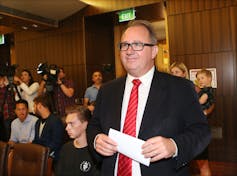 One person who's seen up close the sometimes difficult relationship between reporters and politicians is former federal Labor MP David Feeney.
Speaking to Andrea Carson about falling media trust and increased political polarisation, he asks: "In today's Australia, where do you have a public conversation? Because there are so many different filter bubbles, there are no agreed facts… we are losing the capacity to build a consensus."
---
Read more: Media Files: What does the Nine Fairfax merger mean for diversity and quality journalism?
---
Media Files is produced by a team of journalists and academics who have spent decades working in and reporting on the media industry. They're passionate about sharing their understanding of the media landscape, especially how journalists operate, how media policy is changing, and how commercial manoeuvres and digital disruption are affecting the kinds of media and journalism we consume.
Media Files will be out every month, with occasional off-schedule episodes released when we've got fresh analysis we can't wait to share with you. To make sure you don't miss an episode, find us and subscribe on Apple Podcasts, in Pocket Casts or wherever you find your podcasts. And while you're there, please rate and review us - it really helps others to find us.
You can find more podcast episodes from The Conversation here.
---
Recorded at the University of Melbourne's Centre for Advancing Journalism. Producer: Andy Hazel.
Additional audio
Theme music by Susie Wilkins.