« Il y a bien longtemps, dans une galaxie lointaine… Steve Jobs lançait l'iPhone ». Ainsi pourrait débuter le générique de Tech Wars, la guerre de la Tech et des applications, tant le smartphone allait bouleverser les marchés numériques et définir les standards de l'internet mobile. Quelles sont les stratégies à l'œuvre sur ces marchés ? Et pourquoi Star Wars est une grille de lecture pertinente pour comprendre les dynamiques concurrentielles passées, présentes et futures sur ces marchés ? C'est ce que vous découvrirez dans ce nouveau numéro de « C'est dans la boîte ! ».
Pour aller plus loin
Développeurs d'apps valorisés 1 milliard de dollars selon l'année de création et la nature de l'actionnariat
Évolution de la valorisation des GAFAM depuis 2009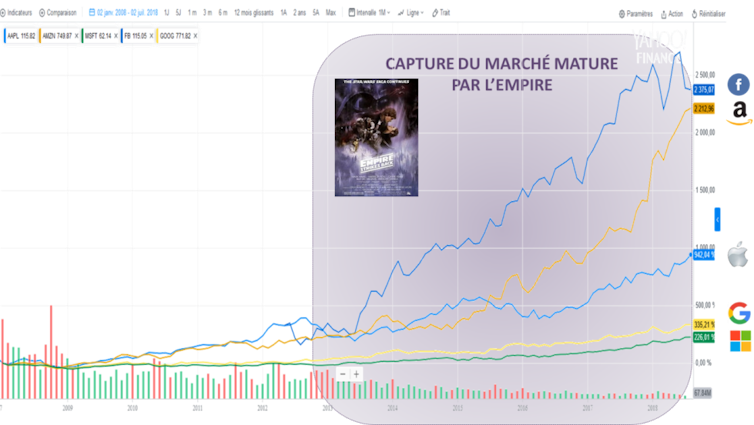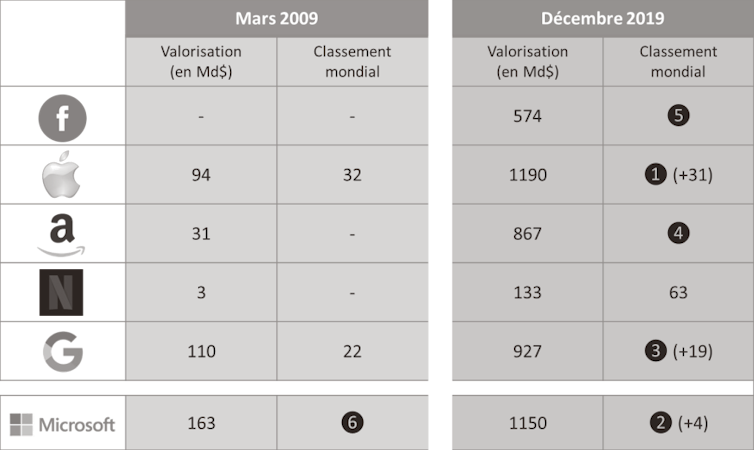 ---
« C'est dans la boîte ! », le Podcast de la stratégie d'entreprise signé The Conversation France, vous propose l'étude de cas d'une multinationale bien connue des consommateurs et des citoyens. Julien Pillot, enseignant-chercheur à l'INSEEC School of Business and Economics, et Thibault Lieurade, chef de rubrique Économie + Entreprise, vous donnent rendez-vous une fois par mois pour décrypter les aspects stratégiques les moins visibles… qui sont aussi les plus essentiels !
Retrouvez tous les épisodes précédents sur The Conversation France, Deezer et Spotify.