One in nine Australians over the age of 25 (that's 1.7 million people) has chronic kidney disease. That's more than the number living with chronic lung disease, stroke, heart failure, and all types of cancers combined.
And the picture is just as bad in many other countries. But, for some reason, kidney disease hasn't received the attention it ought in World Health Organization priority documents and national chronic disease programs.
So what do kidneys do, and why is this disease worth prioritising?
Chronic kidney disease
Kidneys are essential organs involved in regulating blood pressure, bone quality, and red blood cell production (important for carrying oxygen in the bloodstream), control of essential electrolytes and removal of waste products from the blood.
Chronic kidney disease is a non-communicable disease involving a reduction in kidney function over time. It most commonly results from diabetes, high blood pressure or kidney inflammation.
Disease onset is frequently insidious (and often asymptomatic until late stages) so awareness and early identification can be difficult.
The term "end-stage kidney disease" refers to the stage of kidney failure (about less than 10% of normal function) wherein kidney replacement therapy, namely dialysis or transplantation, is required to sustain life.
Major risk factors for chronic kidney disease include hypertension, obesity, diabetes and ageing – all of which are on the rise globally.
Importantly, kidneys are not the only organs damaged. Chronic kidney disease is a cause, consequence and risk multiplier for many other diseases, including heart disease.
And even after adjusting for traditional cardiovascular risk factors, such as high cholesterol and blood pressure, chronic kidney disease independently increases your risk of heart disease by between two and four times.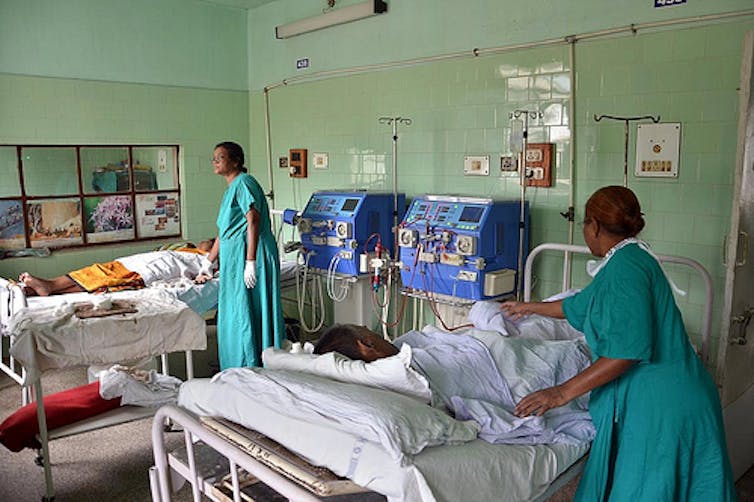 The global picture
The global prevalence of chronic kidney disease is estimated at between 8% and 16% of the population, meaning up to one in six people worldwide are affected.
Health-care expenditure on chronic kidney disease totalled a staggering US$60 billion in the United States in 2007, representing 27% of the total Medicare budget. In the United Kingdom in 2009-10, more than AUS$2.4 billion was spent on the illness - equalling $1,320 for each person diagnosed.
More than 50% of this money was spent on managing end-stage kidney disease, despite it accounting for only 2% of the affected population. In Australia, the cost of treating end-stage kidney disease between 2009 and 2020 is estimated at A$12 billion.
In low- and middle-income countries, often with more fragile health-care systems, these costs can be crippling for both governments and individuals.
Kidney disease, equity and development
A bi-directional relationship between poverty and chronic kidney disease means poverty makes you more likely to develop the illness, and poverty worsens the outcome once you have it.
Even in Australia, end-stage kidney disease is more common in socioeconomically disadvantaged areas. Regional and remote areas have more cases of kidney disease and poorer survival.
In particular, Indigenous Australians carry a disproportionate burden of chronic kidney disease; they are four times more likely to die from it than non-Indigenous Australians.
A similar picture is seen in Indigenous populations worldwide such as Native Americans, First Nation Canadians, South American Aborigines and New Zealand Maori.
Around 1.4 million people globally receive dialysis for end-stage kidney disease, a number which is increasing by 5% to 10% every year.
But number is limited by the financial costs of providing care; it's likely that many more are dying of this preventable and treatable condition because they can't afford treatment.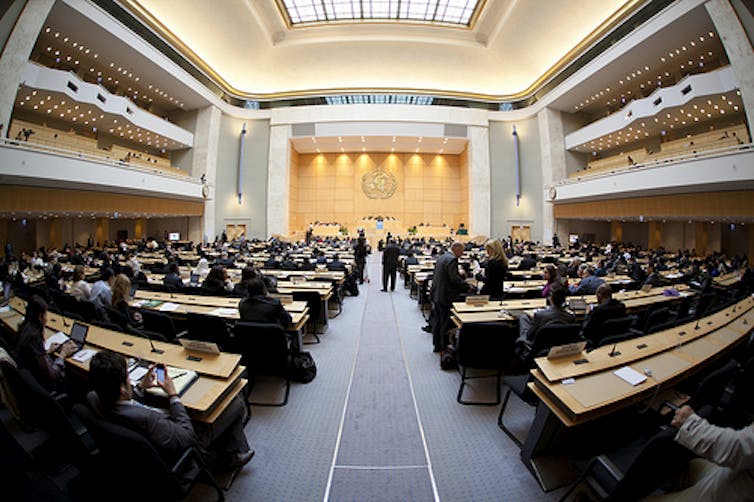 Globally, over 80% of patients receiving treatment for end-stage disease live in high-income countries, which account for less than 20% of the world's population.
Countries such as India are seeing increasing numbers of people suffering from chronic kidney disease but less than 10% of the people who need dialysis receive it.
Prioritising health
Despite a high global prevalence, inequities in treatment, and being noted by the 2011 World Health Organization high-level meeting on non-communicable diseases as posing "a major health burden for many countries", kidney disease is still a notable absentee from the grouping of priority non-communicable diseases.
Kidney disease is noted in the draft global action plan for controlling non-communicable diseases 2013-2020 as being "closely associated" with priority diseases. And therapy to prevent kidney disease progression is an aim within diabetes actions.
But the action plan still only focuses on the four prioritised non-communicable diseases – heart disease, diabetes, chronic respiratory disease and cancers.
Governments and health systems must develop strategies to both prevent kidney disease and provide treatment to everyone who needs it.
This involves implementing proven preventative measures globally, while developing low-cost dialysis methods that reduce financial barriers to care, and new effective treatments for chronic kidney disease.
We must be clear about the links and common origins of chronic diseases if we are to combat them. The burden of kidney disease should be recognised and it should be prioritised alongside other highlighted non-communicable diseases. This would galvanise action against their shared risk factors.
Whatever our future global health and development agenda looks like, kidney disease must be a priority within it.