This is the eighth and final article in our series, Cities for Everyone, which explores how members of different communities experience and shape our cities, and how we can create better public spaces for everyone.
---
Mention "Chinatown" and many people imagine a closed ethnic enclave – a place to immerse oneself in an exotic culture and eat yum cha. In this image, Chinatown is an alien neighbourhood with a traditional culture left behind by the modern city surrounding it.
But this idea of Chinatown no longer fits with today's urban reality, at least in downtown Sydney.
Rather than a relic of the past, Sydney's Chinatown is a precinct where Australia's increasing entanglement with Asia can be seen in the streets. The Chinese-themed urban reserve has morphed into a vibrant powerhouse of Asian-Australian urban modernity and consumer culture.
---
Read more: Stephen FitzGerald: Managing Australian foreign policy in a Chinese world
---
Anything but an ageing museum piece
Chinatown today is the result of a series of urban revitalisation projects around Dixon Street in Haymarket. Chinese associations and businesses began settling here from the first half of the 20th century, when the White Australia policy was at its peak.
When this policy ended in the 1970s, the area became an icon of multiculturalism. Dixon Street was closed to traffic and given a "uniquely Chinese" makeover. The two ceremonial arches that marked the area as "Chinatown" were erected in 1980.
By the start of the 21st century, Chinatown was one of Sydney's most visited tourist attractions. It has since spread way beyond its Dixon Street core. Its population has grown significantly and tall apartment blocks have emerged, including World Square and Market City.
Many of the area's residents are international students. In 2011, one in every three people living in Chinatown Haymarket was in Sydney to study. As well as those from China and Hong Kong, many others come from Thailand, Indonesia, Korea, Taiwan and on so on.
---
Read more: Immigrant ambassadors open doors for Australia across Asia
---
The presence of these young people has driven the rejuvenation of Chinatown's economic and cultural landscape. This is reflected in the growth of quirky small businesses opened by young Asian entrepreneurs. Many of them came to Australia as students and decided to stay.
For example, a Chinese former student used a sponsorship from his family to set up a Sichuan restaurant in north Dixon Street. A Korean former student opened an Asian-style coffee shop in Pitt Street's "Koreatown".
---
Read more: Little Koreas could capitalise on Sydney's hottest entrepreneurs
---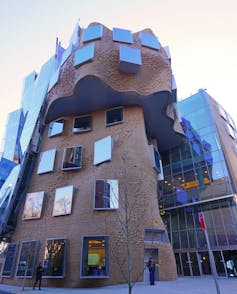 Chinatown seems to be inspiring entrepreneurs to invent new commodities for consumers eager to engage with an increasingly diverse food and drink culture. A common night out in Chinatown can easily include dinner in a Japanese tapas restaurant, followed by a Hainanese coffee-flavoured gelato made with liquid nitrogen.
Big Asian brands have also chosen to enter Australia by opening branches in Haymarket. These include a popular Taiwanese dumpling house, Din Tai Fung, and the Beijing-originated Peking duck restaurant chain, Quanjude.
Such developments are emblematic of Chinatown Haymarket as a site where Asian urban modernity is introduced into Sydney. Importantly, this modern Asian influence is also evident in the area's built environment. Prominent examples include:
the University of Technology's "Gehry building", funded by Chinese Australian businessman Dr Chau Chak Wing
the Central Park apartment complex with its vertical gardens, developed by Singaporean property group Frasers on Broadway near Central Station
Greenland Centre, the Chinese state-owned-enterprise-led development of a 235-metre-high residential complex.
---
Read more: Iconic building alert: waiting for the Frank Gehry effect in Sydney
---
These are recent examples of investments from Asia shaping the broader southern CBD. But such interventions are not only a recent phenomenon. In the past two decades, unique architectural styles have emerged and mixed with local Victorian heritage buildings.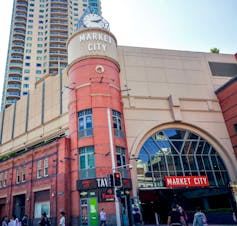 Hong Kong's First Scope Development created Capitol Square shopping centre by restoring part of a heritage site dated 1876. Today, the tiny shopping centre includes a pub on the ground floor and a Japanese-style gaming and photo arcade on the first floor. Taking one of the exits on Campbell Street, patrons find themselves in the middle of a cluster of grocery stores and restaurants forming the recently institutionalised "Thaitown".
Self-professed "Chinatown shopping centre" Market City, on the corner of Thomas and Hay streets, was bought in 2000 by a Singaporean investor. It has been developed as a three-level mall while preserving part of the structure from the 19th-century red-brick warehouse that hosted Sydney's historical fruit and vegetable market.
Growth area needs to find space for the past
This area of downtown Sydney is undergoing huge infrastructural transformation – such as the George Street light rail, the redevelopment of Darling Harbour and soon the Central Station refurbishment.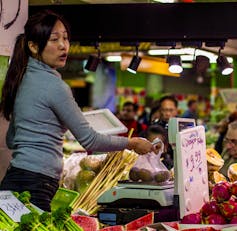 Some of the local business community believe that height restrictions imposed by the City of Sydney on the core Chinatown area are limiting its economic development. Others in the long-time Chinese Australian community fear that too much development will erase the area's cultural heritage. There is no museum or cultural centre that tells the story of its historical significance for Chinese settlement in Sydney.
To date, Chinatown's fine grain and thick texture have been central to its vitality. This is defined by small shops with narrow frontages and mixed use, and multi-storey shopping malls packed with activities: from language school and travel agencies to feng-shui consultants and shops selling garments by Asian independent designers.
Reactivated arcades cross-cut the precinct, hosting a warren of tiny businesses. Connected walkable areas enable pedestrians to traverse Chinatown by various routes.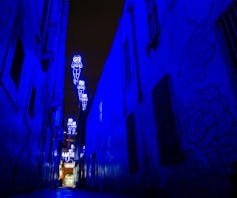 Sydney City Council has commissioned works by Asian Australian artists. They have found in the precinct an urban canvas for reflections on the complexity of the city's increasingly Asian identity. The works include references to Aboriginal and Australian culture, such as Jason Wing's floating blue angels in Kimber Lane.
In all these respects, Chinatown seems to confidently embrace its role as a bridge, both economic and cultural, between Australia and Asia. It must be hoped that, in planning for this growing precinct, this role will be both highlighted and nurtured, while its past will not be forgotten.
---
You can find the other articles in the series here.