Living close to a pokie venue is a risky business. This was a key finding from our comprehensive 2010 survey of gambling behaviour in the urban centres of the Northern Territory.
Our research found that if you live close to poker machines you are more likely to gamble – and gamble more often – than someone who lives further away. And the more you play the pokies, the greater your risk of developing gambling problems.
This finding, while perhaps unsurprising, is important because few studies have actually directly tested the relationship between residential proximity to pokie venues and gambling behaviour.
We have known for some years that, in Australia, the more pokies there are in an area, the higher the rate of gambling problems in that area. For example, a 2009 meta-analysis of 34 studies in Australia and New Zealand estimated that each 100 poker machines are associated with 80 problem gamblers, as per the graph below. This suggests that the residents of areas with a higher density of pokies are more likely to suffer from the ill-effects of gambling.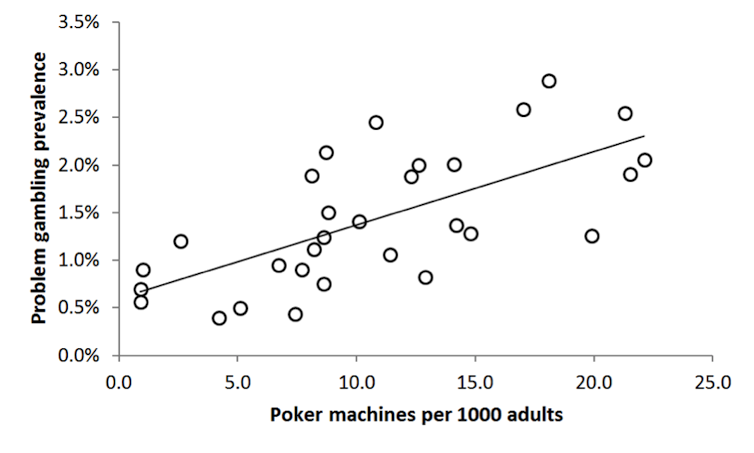 What we haven't known until now is the specific effect of residential distance from pokie venues on the frequency of visitation, gambling participation, and gambling-related harm. For example, if someone lives 500 metres from a pokie venue, are they actually likely to gamble more – and more likely to develop gambling problems – than someone living ten kilometres away? If so, how much more would they gamble?
At what point, specifically, do venues become "too close to home"?
Methods
To measure the effect of residential proximity to pokies on risk of gambling harm, we sent a questionnaire to every household in the NT to which Australia Post would deliver mail.
We asked over 7000 people which pokie venue they visited most frequently, how often they gambled, and a standard set of questions used to measure problem gambling. We then calculated the travel distance by road from each household to all 64 visited pokie venues in our study area.
Because gambling venues tend to cluster in poorer suburbs, we adjusted for individual and neighbourhood socio-economic status in all our analyses.
Frequency of venue visitation and distance
We found that the closer you live to a gambling venue, the more often you visit – as per the figure below. Specifically, people who lived 100 metres from their favourite venue visited an estimated average of 3.4 times per month. This compared to an average of 2.8 times per month for people living one kilometre away, and 2.2 times per month for people living ten kilometres away.
This distance effect applied to both casinos and pubs/clubs, although casino patrons tended to visit less frequently than other venue-goers, regardless of the distance to the venue.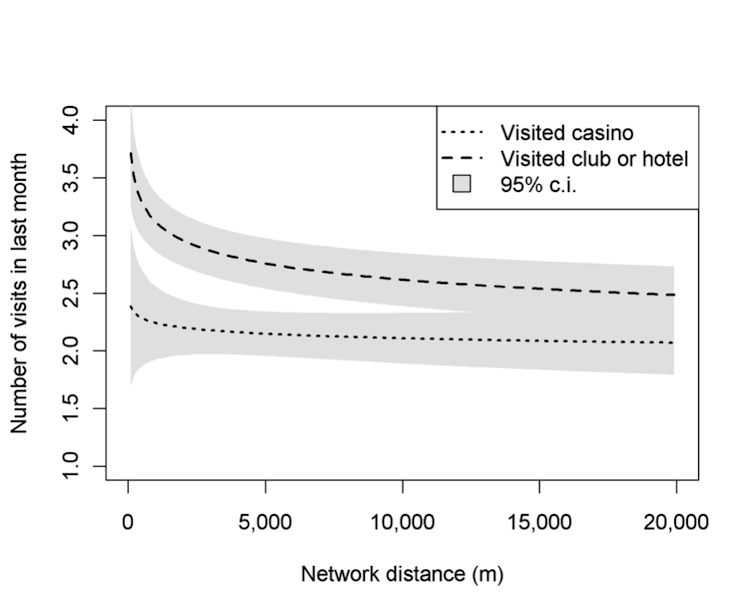 Gambling participation and distance
Residential distance to venue also plays a significant role in gambling participation. The figure below shows that, for pubs and clubs, the estimated average probability of playing the pokies drops from 31% for someone living 100 metres away from their venue, to 21% for someone living one kilometre away, and down to 14% for someone ten kilometres away.
Put another way, gamblers are more likely to visit venues closer to their homes than non-gamblers.
This distance effect was not evident for casino-goers. While distance played an important role in predicting gambling participation at pubs and clubs – especially within the first five kilometres travelled to the venue – people were just as likely to gamble in a casino regardless of how far they travelled to get there.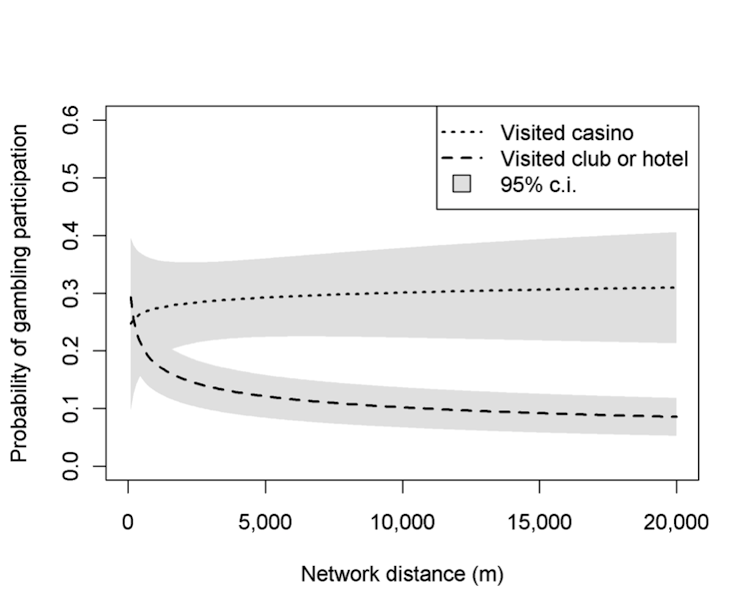 Lessons
The burden of gambling harm falls most heavily upon people who live close to a gambling venue or who visit casinos. The rate of gambling harm in our study among those living within 100 metres of any gambling venue was over 50% higher than among those living ten kilometres from a venue.
The spatial distribution of pokies does impact actual gambling behaviour and therefore gambling harm at the local level. A policy free-for-all that allows the introduction of a greater number of poker machines into more locations is likely to increase the overall rates of problem gambling.
For regulators, more stringent licensing policies which limit the travel distance between pokie venues and residential areas, particular low-income ones, could reduce problem gambling. The Victorian government has suggested destination-style gambling (that is, concentrating gambling in fewer, larger venues), but in 2008 discarded the notion on the grounds that problem gambling would not be reduced.
Our research challenges this assumption. Our findings suggest that the removal of pokies from residential areas may decrease gambling harm in the long-run, although as we have noted elsewhere, implementing a destination-style gambling strategy may entail other risks, such as higher rates of problem gambling in large venues.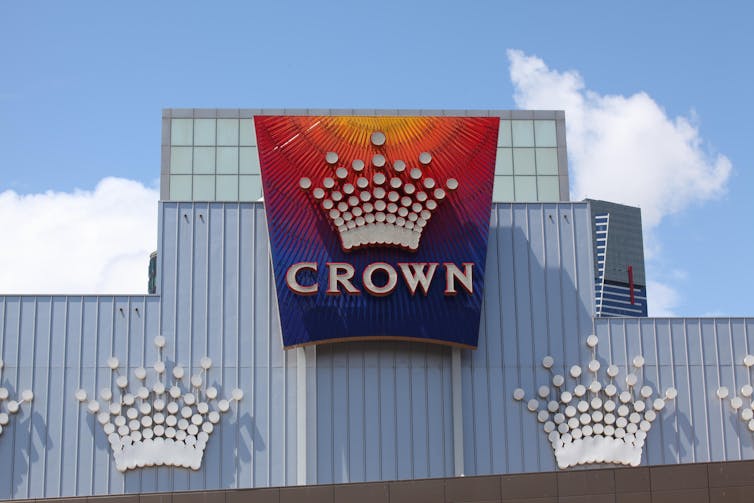 Our finding that gambling in casinos is less influenced by distance travelled compared to clubs and pubs is significant in the current political climate of intense casino liberalisation. We already know that large venues like casinos are more dangerous than smaller ones. Our current study makes clear that they also have much greater pulling power than smaller venues.
This means that casinos, rather than locating close to low-income suburbs, can rely on their superior attractive power to pull in punters from tens of kilometres away. To attract more gamblers they focus on upgrading their facilities, frequently competing for pokie dollars with hotels and clubs rather than with interstate or international casinos.
And being strategically located, casinos can harvest substantial pokie takings from an entire city. A proliferation of new casinos is likely to lead to an intensified burden of gambling harm across an urban area.
However, for pubs and clubs, our findings suggest that gambling harm can be influenced by their location. Gambling participation can be reduced by keeping pokie venues further away from residential areas, particularly poorer ones. And this is something that, at least in theory, can be influenced by regulators.
Ultimately, for those concerned with limiting the community fallout from poker machines, both increases in the size of venues and their continued dispersal into new venues should be resisted.