Europe's Mediterranean regions have strong sunshine, bright blue seas, beautiful beaches, and pretty holiday houses immersed in pine forests that provide welcome shade. It sounds very inviting, but such a scenario is also perfect for severe wildfires such as the ones that killed 99 people this July in the popular holiday resort of Mati, in Greece.
Now, new research in Nature Communications suggests that the summer fire season in Mediterranean Europe is going to get worse. Under the hottest climatic predictions of 3°C warming, the area that is currently burned every year would double. Even more worryingly, 40% more area would be burnt even if the Paris Climate Agreement is fulfilled and warming stays below "only" 1.5°C.
So, time for Europeans to start looking for other holiday destinations? Hang on. Let´s look at the new study in more depth first.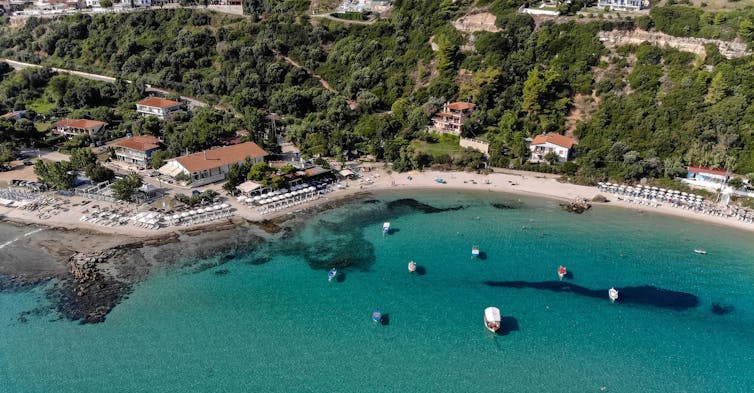 In this modelling exercise, a team of scientists led by Marco Turco, a fire researcher at the University of Barcelona, predict the area that would burn in future summers in Mediterranean Europe following different degrees of warming. They base their approach on the findings of a recent study from some of the same authors, which looked at Portugal, Spain, southern France, Italy and Greece, and established a direct association between the area burnt in the summer months and summer drought in recent decades (1985-2011). They use that "fire-drought" relationship to estimate the area burnt under the drought conditions forecasted in three different warming scenarios (1.5°C, 2°C and 3°C).
The climate obviously has a direct effect on fires, as hotter conditions lead to drier vegetation more susceptible to burning. But the authors also account for indirect effects such as drier conditions reducing plant growth, meaning there is less vegetation to "fuel" the fires. This "non-stationary" climate-fire modelling is important because if the indirect effects were not considered the predictions of area burnt would be even higher.
So, are Turco and co-authors right? Will the future look blacker for the Mediterranean? Will tragic events, like those in Mati, become more frequent? Turco's predictions, even if in many ways the most advanced to date, still carry a huge uncertainty, but they add to the growing list of studies that forecast more Mediterranean fire activity in future.
Climate change is not the only factor
What their study is unable to predict is the influence of perhaps the most important factor behind the future occurrence of fires, also the very same factor that is responsible for accelerated climate warming: humans.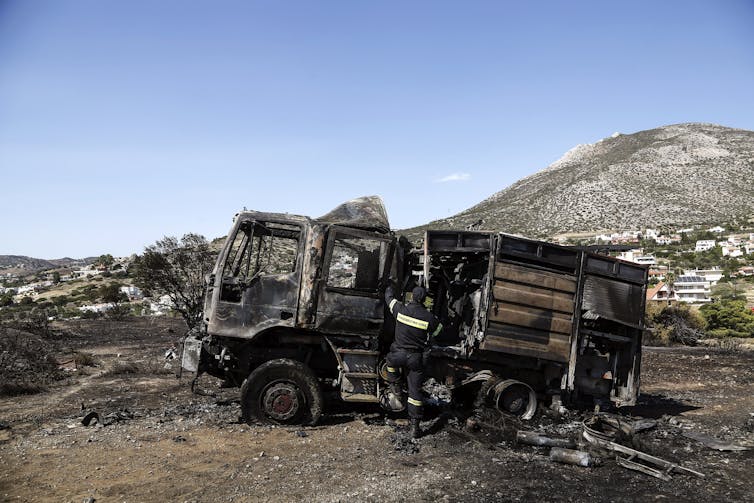 Humans are the main source of ignition in most of the Mediterranean, and the main modifiers of vegetation cover. Including them (or us) in scientific models of fire is very challenging, and can radically change the results. For example, at the global scale, models that rely on climate change tend to predict a very substantial increase in area burnt – a hotter world means more fires, as you'd expect. But when human effects are incorporated, the estimated total area burnt can actually decrease to levels even below current ones. This is essentially because more and more land worldwide is being urbanised or converted to agriculture, resulting in smaller and more fragmented "wildland" areas that can burn.
We still have plenty to worry about, however, as global averages form only a small part of the story. In some parts of the world, such as Canada and the US, the area burned is already on the increase. Meanwhile, some houses are being built further into forests and other flammable vegetation, while other houses are finding themselves now surrounded by vegetation as nearby fields are abandoned and left to nature. Both situations leave more people exposed to fires.
In Mediterranean Europe the situation is particularly complex as the ongoing abandonment of traditional land uses is changing the vegetation more dramatically than climate change. Intensely grazed or cultivated land is becoming overgrown with shrubs or replaced with fire-prone forest stands, a trend that makes the landscape more flammable. This, combined with climate warming, can provide the perfect recipe for fire disasters. For example, Greece has seen less than half the area burned so far this summer than the 2008-17 average), but lots of dry vegetation for fuel, strong winds and a high population density combined to cause Greece's deadliest fire on record.
The future of fire in Mediterranean Europe ultimately depends on the decisions we make. That means complying with the Paris Climate Agreement to reduce global warming but also adapting effectively to the increased risk of fire. And this does not necessarily mean suppressing all fires, which is often not possible, but managing the fuel and how we live among it. Policies aimed at removing fire completely from the landscape have long proven to fail, even if many countries still follow them.
Instead we need to create fire-resilient landscapes and fire-resilient societies. A holiday house in the middle of a pine forest may sound idyllic, but it can be a death trap when a fire occurs, and the study by Turco and his co-authors suggests that this will be even more likely in the future.