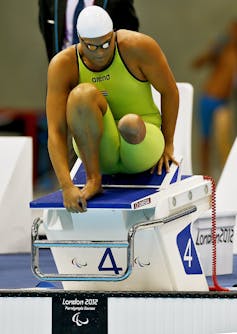 Day 6 had 14 sports on the program with 52 medal events in 8 sports (including the first day of medals in Boccia and Wheelchair Fencing). There are just two sports that are yet to start competition (road cycling and wheelchair rugby). Both sports start their games on Day 7.
At the start of Day 6 I saw a replay of Ahmed Kelly's SB3 50m Breastroke and his Oceania Record in his heat (on Day 5). Ahmed finished fourth in the final. He has become a very popular athlete in Australia following his appearance in the ABC's Race to London.
The first gold medal of the day was won by Michele George of Belgium in the Equestrian Individual Freestyle Test - Grade IV. It was her second gold medal of the Games.
During the Day China dominated the Wheelchair Fencing events and won gold medals in each of three of the four classes. The fourth gold medal was won by a Hong Kong athlete, Yu Chie Yee. Egypt had a very successful day in Powerlifting winning a medal in each of the three classes ( a gold, a silver and a bronze).
In the pool Natalie du Toit of South Africa won her twelfth Paralympic gold medal in the S9 400m Freestyle. This is her second gold medal at these Games. Ellie Cole from Australia was in this race and won a bronze medal in an Oceania Record time.
Australia won three medals in the pool (including Ellie's bronze). Brenden Hall won the S9 400m Freestyle in a World Record time. Jacqueline Freney won her sixth gold medal in these Games in the S7 50m Freestyle and did so in a Paralympic Record time. This positions Jacqueline as the leading medal-winning athlete at these Games.
In Athletics, Rheed McCracken won a bronze medal in the T34 200m. Rheed is one of the team's youngest athletes. He was born in 1997.
Day 6 saw the renewal of the Kurt Fearnley and David Weir rivalry in the Men's 1500m T54 class. David had 22,659 visits to his Wikipedia page on the day he won his gold medal on 2 September. David won the 1500m race with Kurt finishing seventh. Kurt was just 1.14s from the gold medal winner. The field of ten racers was seprated by just 2.61s.
Previous instalments: