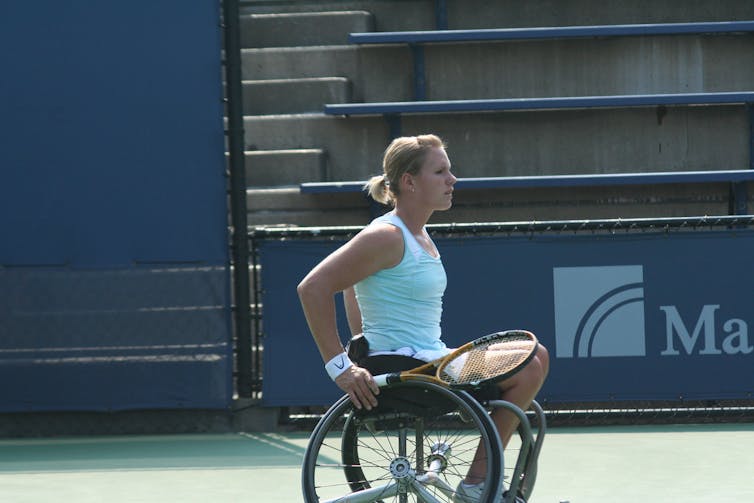 On Day 9 of the Games there were 12 sports on the program with 51 medal events in 9 sports. One of the medal events was the final of the Women's Wheelchair Tennis Singles. Esther Vergeer won the event. All the medals in this event were won by the Netherlands. Esther has not been defeated in 470 matches, since January 2003. This is her fourth consecutive Paralympic Tennis Singles gold medal.
At Brands Hatch, Alessandro Zanardi won his second gold medal in the H4 class. This time in the road race.
China had another successful day at the Athletics Stadium. There were five gold medallists. One of them was won by Zhiming Wang in the Men's F40 Javelin competition. At one point it looked like Iraq would win all three medals until Zhiming Wang's last throw. He broke the World Record by 4.68m to win gold. Ih has been quite a Games for Zhiming, a twenty-year-old athlete. He won all three throwing events in the F40 class with World Record performances.
Todd Hodgetts won a gold medal in the Men's F20 Shot Put with a new World Record throw. Later in the evening Scott Reardon won a silver medal in the T42 100m.
After a week of intensive competition, the Women's Wheelchair Basketball team, the Gliders, won a silver medal in the final of the competition.
It was another golden night for Australia in the Swimming Pool. Matt Cowdrey, Ellie Cole and the Women's 4x100m Medley Relay team (Ellie Cole, Kat Downie, Annabelle Williams and Jacqueline Freney) brought Australia's Swimming medal tally to 35 (17 gold, 7 silver, 11 bronze).
Previous instalments: