Diversity, equity and inclusion (DEI) initiatives are becoming increasingly commonplace worldwide. However, when it comes to these efforts, disability is often not given the same level of attention as other factors like gender, ethnicity, culture, race or sexuality. This needs to change.
Only four per cent of organizations explicitly consider disability in their inclusion initiatives and over 50 per cent of global boards and executives report never discussing it. Many organizations leave it out of their DEI efforts altogether.
Despite Canadian legislation prohibiting disability discrimination, disabled people still don't have equal employment opportunities. Over 50 per cent of discrimination complaints in Canada involve disability.
Additionally, disabled people are more likely to experience low income, unemployment, underemployment and health-related stress than non-disabled people are.
Not all disability is visible or constant
The 2017 Canadian Survey on Disability found that over 22 per cent of working age Canadians — about 6.2 million — had one or more disabilities. Globally, the number is about 1.3 billion.
The survey also aimed to capture a more accurate picture of disability by including those with invisible and episodic (on-again off-again) disabilities. Examples of these kinds of disabilities include hearing loss, mobility issues, chronic pain, Crohn's, colitis, lupus, multiple sclerosis, addiction and mental health disorders.
Recent data from Statistics Canada shows that the majority of disabilities among Canadians are invisible and/or episodic.
Canadians with episodic and/or invisible disabilities have been experiencing increasing amounts of illegal discrimination in the workplace.
They face a variety of challenges, including feeling as though they can't safely disclose their disability at work. They also experience a lack of organizational support. Over 20 per cent of disabled Canadians indicated they were not receiving adequate workplace accommodations in 2017.
Disability inclusion is good for business
Better-designed DEI efforts can help organizations achieve inclusion outcomes and alleviate stigma that leads to negative employment experiences for people with disabilities.
Organizations' efforts to market their DEI initiatives are a key part of developing an image of inclusivity.
These efforts — successful or not — can bring increased profitability to businesses and improve access to a broader spectrum of talented job applicants.
---
Read more: Why it makes good business sense to hire people with disabilities
---
However, the current reality of overlooking disabled people as potential employees means missed opportunities for everyone involved. This is especially true considering the prevalence of invisible and episodic disabilities.
To achieve real and lasting disability inclusion, organizations should move beyond mostly ineffective approaches that rely solely on special accommodations. These approaches put too much onus on disabled people and too little on business leadership.
What can be done?
There must be a focus on improving leaders' knowledge and understanding regarding how to include disabled people in the workforce.
One interesting approach involves identifying, guiding and mentoring potential leaders who may be overlooked due to their disabilities. One example of this is The Generation Valuable Program, which provides mentorship opportunities to disabled people. The program's first cohort of 75 is currently in progress.
The growth of the gig economy also holds potential for addressing the challenges faced by individuals with invisible and episodic disabilities. In the gig economy, people have the flexibility to manage their work hours and pace of work without having to disclose specific details about their disabilities.
Disabled gig workers could leverage available technologies and services to level the playing field in workplaces. To date, however, the gig economy has not yet had a substantial impact on the underemployment of disabled people. There is a need for much more impactful, profound, systemic change.
Exclusive solutions are not inclusive
Organizational decision-makers should think more in terms of ability rather than disability, and the untapped talent pool. To make inclusion a reality, it's important for organizations to adopt a social model of disability, where disability is viewed as just another difference, like gender or sexuality.
This stands in contrast to the more common medical model of disability that characterizes disability as a problem that requires accommodation.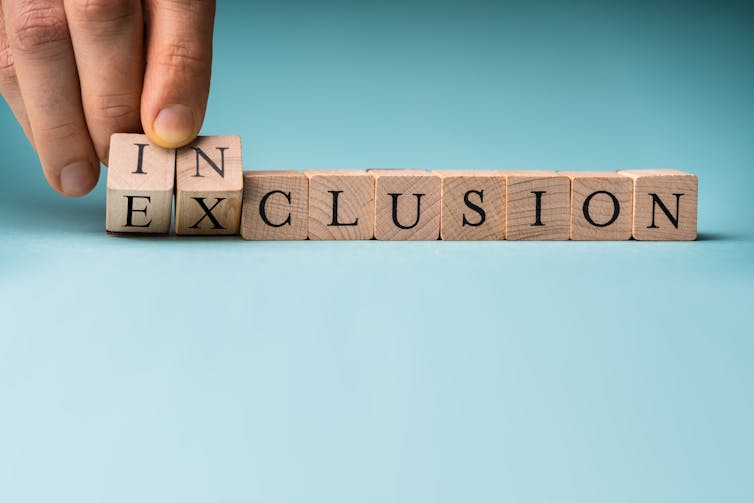 A social model of disability involves actively and consistently working towards removing barriers to full participation in employment.
A useful analogy for this approach is a gender-inclusive approach where all bathrooms are designated as gender-neutral, rather than having a single gender-neutral bathroom among a sea of gender-aligned ones.
Ultimately, the responsibility for these types of changes should not rest with disabled people, but with businesses and their leadership.
Combining social and commercial interests
I recently spoke with social entrepreneur, author and Ted Talk speaker, Gil Winch about his outsourcing call centre business that employs people with disabilities. It creates a supportive working environment for people with disabilities from recruitment, to training, to physical accommodations.
Winch's business is an example of a social enterprise that combines social good with market-based, commercial interests. With respect to disability, social enterprises aim to develop businesses "where people with a specific disability will have…the same capacity" as non-disabled workers.
Winch encourages organizations worldwide to reserve employment for people with disabilities. His reasoning is this: "If we can reserve parking for those with disabilities, why not jobs?"
Given the broad skill set of the world's 1.3 billion disabled people, this idea could help bridge the employment gap.
Why must employment for disabled people be an exception, accommodation or special favour provided by an employer? Why must disabled people feel they have to get permission for flexibility?
Organizations who are serious about DEI must adopt the frame of producing shared value where business and social goods exist side-by-side. Creating real inclusion in employment based on ability is what DEI leadership is all about.