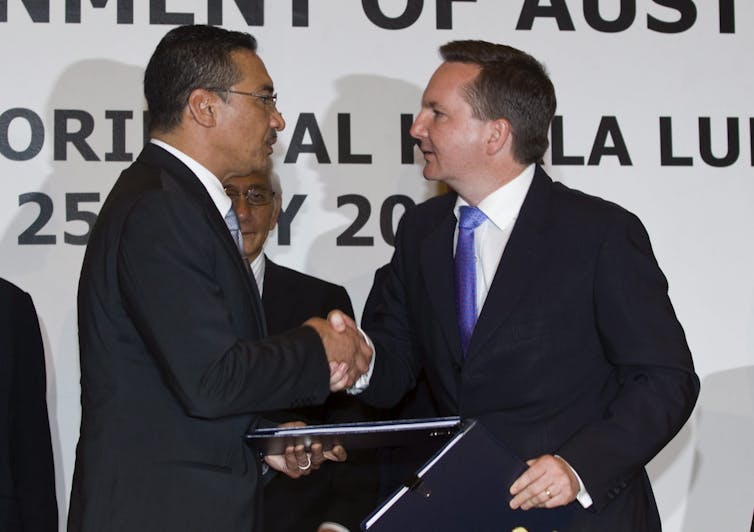 For many years now Australia has engaged in border control collaboration with other countries in the region.
We have out-posted our own immigration, customs, police and other officials in source countries such as Sri Lanka and transit countries such as Indonesia to assist in interception of potential irregular movers. We have poured millions of dollars into building the border control capacity of countries in the region.
Since its inception in 2002, Australia has also been co-chair with Indonesia of the Bali Process on People Smuggling, Trafficking in Persons and Related Transnational Crime. The Process has 44 member countries. The Office of the United Nations High Commissioner for Refugees (UNHCR) and the International Organisation for Migration (IOM) are also participants. As its full name suggests, Bali Process activities are focused on disrupting transnational crime through improved regional cooperation.
The problem with this kind of collaboration is that it doesn't actually do anything to address the human insecurity that compels people to attempt irregular travel to Australia in the first place. All it can achieve is to force asylum seekers to make equally risky journeys to other places where protection may be found, or trap them in transit or source countries where they will suffer and die unseen by us.
In fairness, Australia has also engaged in more positive kinds of collaboration over the years. We make some attempt to address causes of displacement in source countries such as Afghanistan; fund projects designed to stabilise or repatriate displaced populations through the Department of Immigration's Displaced Persons Program; and make funding and refugee resettlement places available to UNHCR.
In 1996, Australia and UNHCR initiated the Asia–Pacific Consultations on Refugees, Displaced Persons and Migrants (APC) which supposedly promotes dialogue and cooperation in relation to asylum seeker issues. Unfortunately, the APC has been moribund for many years.
More positively, the Bali Process, which previously left asylum seeker issues to the APC, started putting these issues on its agenda from 2009. This shift culminated in the non-binding Regional Cooperation Framework (RCF) set out in March last year.
Although this is primarily a framework for border control cooperation, it also incorporates protection-related principles. However, whether or not the RCF lives up to its refugee protection potential depends entirely on its implementation.
The non-binding Malaysia Arrangement which was signed on 25 July 2011, while being represented as a practical implementation of the framework, was a step backwards in this regard. It contemplates the transfer of individuals who have already engaged Australia's international protection obligations to a country which is not bound by equivalent obligations under international law or its own law, and which cannot be relied upon to behave as if it were.
As is well-known, there have not, in fact, been any transfers made under the Malaysia Arrangement because the High Court held in August last year that doing so would be domestically unlawful.
Far more palatable than the Malaysia Arrangement are arrangements such as the one which has been in place between Australia, Indonesia and IOM since 2000. Under this arrangement, Indonesian authorities intercept irregular migrants and refer them to IOM for case management and care. IOM refers those who wish to make asylum claims to UNHCR and continues to provide individuals with material assistance pending determination of their asylum claims. Of course, the Australia-Indonesia-IOM arrangement hasn't stopped the boats. In my previous post I attempted to explain why.
Many commentators have suggested that Australia may be able to reduce the number of individuals travelling from Indonesia to Australia by boat by making a greater number of resettlement places available to recognised refugees in Indonesia.
This is certainly a necessary part of any humane policy response, but it will not suffice on its own. For example, the number of asylum seekers and refugees in Malaysia has always been much larger than in Indonesia. At the end of 2011 there were 4,239 individuals (including 1,006 recognised refugees) registered with UNHCR in Indonesia. At the same time, there were 96,617 individuals (including 85,754 recognised refugees) registered with UNHCR in Malaysia.
The conditions in Malaysia are so bad and the chances of obtaining a durable solution to their plight so slim that many asylum seekers and recognised refugees travel onward to Indonesia. A policy response to the problem of irregular movement to Australia which focuses on improving conditions in Indonesia alone will further increase the attractiveness of Indonesia over Malaysia and may exacerbate onward movement.
In short, the only way we can reduce irregular movement to Australia in a way that is respectful of human rights and the interests of other states is to ensure that asylum seekers throughout our region have access to fair procedures for determining refugee status claims; obtain a durable solution in a reasonable time frame if found to be refugees; and receive effective protection in the meantime.
We cannot do this cheaply nor can we do it alone, but we would probably make progress in the longer term if we invest the same amount of money and diplomatic effort in the endeavour as we presently invest in border control.
---
Read the rest of The Conversation's asylum seeker coverage:
Asylum seekers and Australia: the evidence
The Conversation panel on asylum seekers: meet the experts
Infographic: global refugee populations 1975-2010
Refugee intake starts in the region: making a difference in regional burden sharing
Refugees and asylum seekers in Malaysia: the good, the bad and the unexpected
What does the Australian public really think about asylum seekers?
Resettling refugees: the evidence supports increasing our intake
What role does Australia play in accepting the world's refugees?
Who are Australia's 'boat people', and why don't they get on planes?
Uncomfortable truths: busting the top three asylum seeker myths
There's no evidence that asylum seeker deterrence policy works
How immigration policy harms asylum seekers' mental health
Asylum seekers in Indonesia: why do they get on boats?
Preventing deaths at sea: asking the experts on asylum seekers