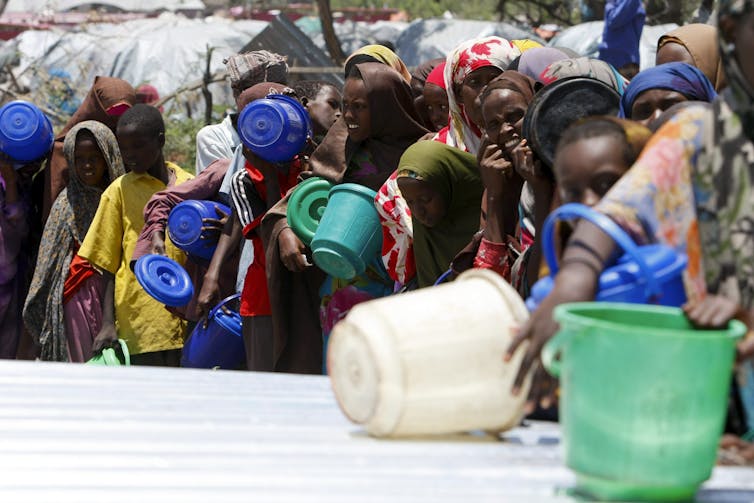 The United Nations High Commissioner for Refugees (UNHCR) estimated some 7.1 million refugees were in "a protracted situation" in 2011. The term is used for refugee populations in exile for five or more years. These are people forced to leave their homes by violence and persecution, and then "warehoused" (in the phrase of the US Committee on Refugees) on subsistence rations in isolated camps or communities. Such refugees lack opportunities for work and education, and have no prospect of return home to countries still torn by conflict.
Resettlement to a "third country" is the only hope, but the chances are slim. In 2011, a total of 79,800 refugees were admitted by 22 resettlement countries, including the USA (51,500), Canada (12,900), Australia (9,200), Sweden (1,900) and Norway (1,300). At the current rate, it would take more than 70 years to resettle all the 7.1 million refugees in protracted exile – assuming that no new refugees arrived in that time. A 70-year queue is not a realistic life prospect – it is not a queue at all.
The inability of the international community to provide realistic solutions to protracted refugee situations is the root cause of asylum-seeker movements. Refugees with resources – whether in the form of money, skills or networks with people who have made it to safety – will do anything to get out of the new gulag of despair. People are so desperate that they prefer the risk of death on the ocean to a life of limbo and humiliation.
It is the people with the greatest courage, endurance and human resources who make it. Australia could benefit from these qualities – as we have done in the past: refugees have made major contributions to our economy and society since 1945. But instead our authorities treat asylum seekers like criminals and lock them up for years.
The global total of refugees recognised by UNHCR in 2011 was 15.2 million. Refugees come from areas hit by war, violence and chaos. The world's top refugee-producing countries in 2010 were Afghanistan (2.7 million), Iraq (1.4 million), Somalia (1.1 million), Sudan (500,000), Democratic Republic of Congo (491,500), Myanmar (Burma – 416,000), Colombia (395,500), Vietnam (337,800), Eritrea (252,000) and China (205,400). The two top refugee-producers were countries that had experienced western invasions as part of the "war on terror". These UNHCR figures do not include the 4.8 million Palestinian refugees, who still constitute the world's largest exile population. Broader UN figures on refugees by region are given below.
Estimated number of refugees by major area, 1990-2010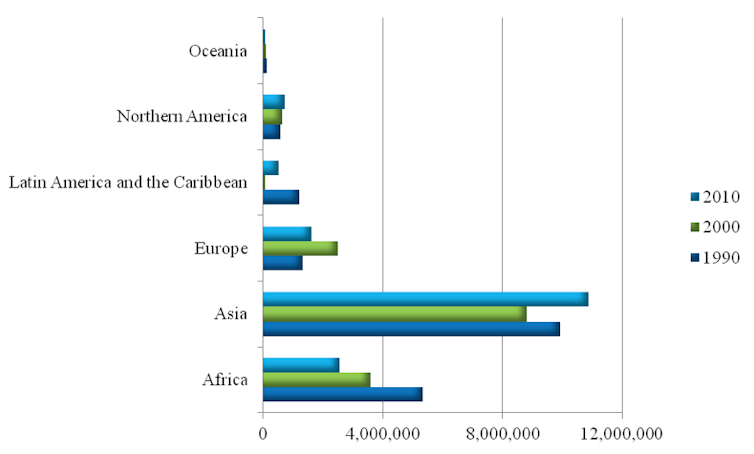 Refugee flows are generated in regions of poverty and conflict, and mostly remain within these regions.
Yet since the 1980s, Western Europe, North America and Australia have been gripped by panic about asylum.
Australia's total Humanitarian Program of 13,799 persons in 2010-11 included 5998 refugees (resettled in cooperation with UNHCR) and 2973 offshore Special Humanitarian entrants (often refugees with relatives already in Australia).
Just 4828 onshore applicants (people arriving by plane or boat and the applying for asylum) were granted refugee status in Australia in 2010-11.
This was 0.6% of the global total of asylum seekers. Australia is the only country in the world that links onshore asylum grants to its resettlement program: for every boat person recognised, a refugee in a camp is struck off the list.
This is perhaps unsurprising from a country in which both the Immigration Minister and opposition immigration spokesman still brand people who risk their lives to come to Australia by boat as "queue jumpers".
---
Read the rest of The Conversation's asylum seeker coverage:
Asylum seekers and Australia: the evidence
The Conversation panel on asylum seekers: meet the experts
Infographic: global refugee populations 1975-2010
Refugee intake starts in the region: making a difference in regional burden sharing
Refugees and asylum seekers in Malaysia: the good, the bad and the unexpected
What does the Australian public really think about asylum seekers?
Resettling refugees: the evidence supports increasing our intake
Who are Australia's 'boat people', and why don't they get on planes?
Uncomfortable truths: busting the top three asylum seeker myths
There's no evidence that asylum seeker deterrence policy works
There's more to regional collaboration than the Malaysia Arrangement
How immigration policy harms asylum seekers' mental health
Asylum seekers in Indonesia: why do they get on boats?
Preventing deaths at sea: asking the experts on asylum seekers