The Sydney suburb of Waterloo is set to be redeveloped as a state-government-nominated "State Significant Precinct". Many Waterloo residents are anxious about the relocation process and about what kind of neighbourhood they will return to.
Documentary filmmakers and urban scholars are working alongside residents as they attempt to engage with media reporting and urban planning of the redevelopment.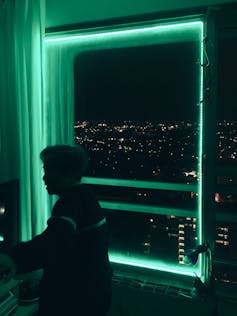 One project, #WeLiveHere2017, is part-urban performance and part-documentary. Up to 500 residents in two public housing towers are each being given a coloured "mood light" to install in their window. Residents can change the colour of their light to express how they feel about the changes in their neighbourhood, including their possible relocation.
The project is a response to public tenants often having little choice or say in the key debates and decisions about their changing neighbourhoods and homes.
What is the main purpose of housing?
The Waterloo site includes about 18 hectares of government-owned land containing low-, medium- and high-rise public housing. According to Planning NSW, the redevelopment will increase "housing and jobs".
Housing affordability is a hot issue across the political spectrum. The problem is felt most acutely by those who are struggling to get into the housing market, to find an affordable rental, or to simply put a roof over their head.
While the problem seems obvious, there are divergent views about the causes and solutions to this crisis.
---
Further reading: Affordable housing, finger-pointing politics and possible policy solutions
---
Many politicians and policymakers do not engage – or do not want to engage – with debates about non-market solutions to the housing problem.
This debate has a long history. In 1872, Frederick Engels concluded that "the so-called housing shortage, which plays such a great role in the press" was the result of industrialising European cities not providing worker housing.
Engels understood that residential housing is political, and that if market societies fail to provide workers with enough adequate housing, the housing problem will continue ad infinitum.
Solutions depend on the questions we ask
Finding effective solutions depends on asking the right housing questions. The public debate is replete with evidenced-based housing data about the wrong, or possibly non-housing, questions.
Housing supply and dwelling completions data answer popular housing questions, but often presuppose a particular private housing type. Housing market analyses focus on economic exchange rather than questions of residential use.
Arguably, the key housing question is this: should we continue with policy that encourages housing to be treated as a safety deposit box for growing capital, or should housing be revalued for its habitational uses, such as housing for the poor, workers and the elderly in our cities?
Asking about these uses of homes reminds us that people actually live in houses, and that people need housing to live in if they are to work in our cities.
Urban economies only function when a cross-section of society lives in the city to provide a diverse labour force. In other words, it's about housing and jobs.
Policy that treats houses as abstract market commodities has effectively devalued the tacit knowledge that is gained from how different people inhabit their housing and city.
---
Further reading: Explainer: the financialisation of housing and what can be done about it
---
Shedding light on people's housing problem
The value of a creative artistic practice such as #WeLiveHere2017 lies in its capacity to expose the housing problem.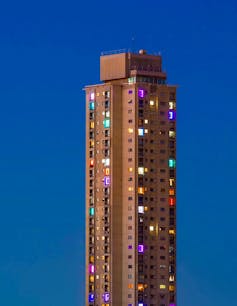 The "evidence base" about public housing redevelopment is currently framed around recording "concentrations of poverty", mapping "poorly maintained public housing assets" and "economic modelling" that justifies government agendas to sell outright or to lease out public land and housing for economic purposes.
This evidence base limits residents' capacity to create alternative narratives about their homes and neighbourhoods, because these rely on different types of data and evidence.
The media regularly create stories about public housing estates as sites of dysfunction, disorder and crime. These stories draw on the government's evidence base, which is produced to support its redevelopment agendas.
This evidence base and media reporting often position individual tenant behaviour, rather than government policy, as the housing problem.
Because they are deemed to be the problem, residents of public housing neighbourhoods find it hard to engage in the political processes and debates that set out the so-called "housing problems" in our cities.
The human dimensions of the housing crisis
The #WeLiveHere2017 project is a response to the devaluing of the locally situated knowledge of residents. It attempts to capture their concerns about their changing neighbourhoods and homes.
The project turns an inanimate building into a metaphorical sentient structure. Through the mood lights, it is expressing the habitational experiences and anxieties of the residents.
It not only puts "a human face to public housing", it puts a human face to the key housing question in the global city of Sydney: where will the poor, elderly and workers live in our city?