It's The Conversation Canada's first birthday. And before taking a moment to blow out the candle on our cake — and maybe blow our own horn — let's instead reflect on how the journalism landscape in Canada has changed in the 12 months since we pushed the "publish" button the very first time.
● The day after our launch, the Toronto Star announced it was shutting down Star Touch after spending $40 million over two years on the tablet project.
● Postmedia and Torstar consummated a deal to swap 41 papers and then announced 37 of the publications would be shut down, putting almost 300 employees out of work.
● Layoffs in the industry seemed to be a weekly event: Dozens of broadcast and print journalists at CTV, Rogers, Global News, Vice and the Halifax Chronicle Herald, just to name a few, lost their jobs.
● La Presse, the influential Montreal newspaper, published its last print edition, and a few months later owner Power Corp. announced it was turning La Presse into a not-for-profit entity.
It was into this world The Conversation Canada was born.
Filling the voids
As traditional media gets smaller, new media models arise to fill the voids. We are one of those void-fillers. A year ago, our goal was to provide Canadians with a new form of high-quality journalism that combined academic expertise with journalistic flair.
Here's how we've made out:
● Our articles have been viewed more than 13 million times, a figure that makes us one of the most successful Canadian media startups of all time.
● We've published almost 900 articles from authors who represent more than 90 universities in Canada and around the world.
● Our content has appeared in dozens of Canadian and international publications, including the Smithsonian Magazine, Maclean's, the Washington Post, the World Economic Forum and the BBC. Oh, and the Daily Mail.
Two good things make a better thing
Part of my job involves travelling to universities across the country to conduct workshops with academics who are interested in writing for The Conversation Canada. I usually start off by explaining this new model of journalism in a very non-academic way — we're like that old Reese's TV commercial.
Academics are the chocolate; journalists are the peanut butter: Put them together and you get an even better thing. The Conversation is the peanut butter cup.
Our co-founders, Mary Lynn Young and Alfred Hermida from the Graduate School of Journalism at the University of British Columbia, recently wrote a paper about our first year that was presented at an academic conference in South Africa. They have done considerable research on national media startups since the turn of the century.
---
Read more: It's time to start The Conversation in Canada
---
The goal of The Conversation Canada "was not to 'save' journalism," they wrote. "Rather the primary aim was to add value to the higher education sector by transforming the capacity of universities to create and share scholarly research and expertise to broad audiences through explanatory journalism."
One of our best examples of explanatory journalism came about when Donald Trump made his infamous comment about "shithole countries." A Trump apologist later stated the president was really saying the United States needed a merit-based immigration system like Canada or Australia.
Shooting down the 'shithole' assumption
Economist Arvind Magesan of the University of Calgary quickly built a database using census information on Canadian immigrants from the countries that Trump had maligned. His article showed immigrants from the so-called "shithole" countries receive fewer government payments, were better educated and were employed more than immigrants from the "Norways" of the world.
It was a brilliant and timely piece of journalism, written by an academic who has extensive expertise on the economic impact of immigrants. Quite a yummy peanut butter cup, that one.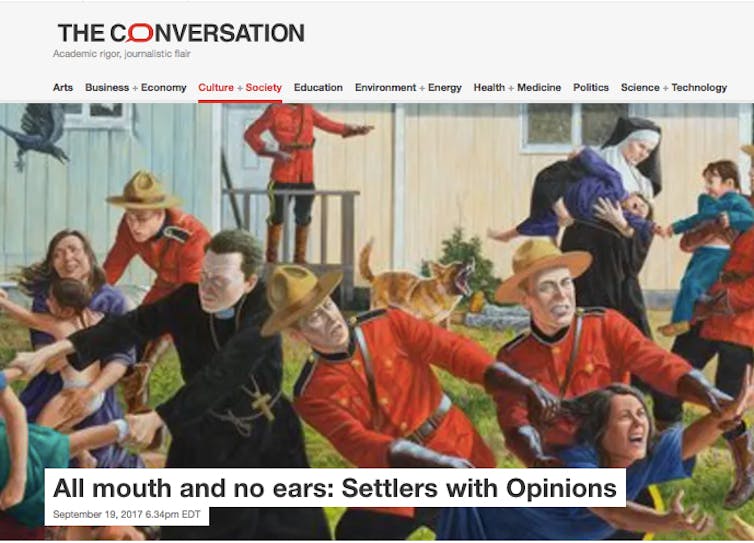 The Conversation Canada has also published many provocative articles that speak to the unique problems facing our own nation. Daniel Heath Justice, a Canada Research Chair in Indigenous Literature and Expressive Culture at the University of British Columbia, wrote about "Settlers with Opinions" — an article every Canadian should read as we all continue the reconciliation process.
We wouldn't have made it to our first birthday without a lot of help.
First, of course, are our authors, who have full-time jobs but still find time to write because they are dedicated to the mission of knowledge mobilization. They work collaboratively with an incredible team of editors at The Conversation Canada: Lee-Anne Goodman (Politics, Business/Economics), Hannah Hoag (Science/Technology, Energy/Environment), Vinita Srivastava (Culture/Society, Arts), Lisa Varano (Audience Development) and Heather Walmsley (Health, Education).
Valuable partners
Our funding comes from 26 universities, as well as support from the Margaret and Wallace McCain Family Foundation, the Lawson Foundation, the Brookfield Institute for Innovation and Entrepreneurship, the Canadian Institute for Health Information and the Social Sciences and Humanities Research Council of Canada. Universities Canada and the Mindset Social Innovation Foundation have been important strategic partners, as has The Canadian Press, which distributes all of our articles to its media customers.
The editorial team is supported by a small but very hard working Board of Directors, which include our co-founders, as well as Pari Johnston of Universities Canada and chairman David Estok of the University of Toronto.
We are fortunate to be part of a great global network. The Conversation started in Australia in 2011, and has since expanded to the U.K., France, Africa, the United States, Indonesia and — starting this week — Spain.
La Conversation Canada
As we look back, we are not standing still. Year 2 for The Conversation Canada will be busy. We expect to produce an even greater amount of stories each day in the next 12 months and in the fall we will launch La Conversation Canada — expanding this great new model of journalism to include more francophone academics.
We go forward into a chaotic world, where too many people still don't trust what they see or read. What does that mean for democracy? American journalists Tom Rosenstiel and Bill Kovach said it best:
The purpose of journalism is to give people the information they need to make better decisions about their lives and society.
By delivering more high-quality explanatory journalism, we hope we're providing you with the information you need.
Finally, the most important thank you goes to our readers. I invite you to let us know how we're doing by leaving a comment on this article.