Three prime ministers, four Labor Party leaders, two popes. 2013 was nothing if not a hectic year for the Politics + Society desk at The Conversation. And while it's repeated so often as to go beyond being a cliché, the 2013 election – the date of which we thought we knew all the way back in January – had all the hallmarks of being the most significant for a generation.
After all, it was our first election at The Conversation.
But for the first six months of 2013, the looming election almost became an afterthought as the gaze of Canberra watchers fixated on the leadership tensions in the government between prime minister Julia Gillard and the man she ousted in 2010, Kevin Rudd.
After one tilt-that-wasn't by Rudd's backers in March to reinstate the former prime minister to the leadership – Rudd refused to run – the Labor Party was left "looking a shambles" following an "extraordinary orgy of self-destruction", in the words of our chief political correspondent, Michelle Grattan.
But the spectre of Rudd continued to haunt the government. Tensions finally came to a head in late June when Rudd defeated Gillard in a leadership spill, 57 votes to 45. As Shaun Carney wrote: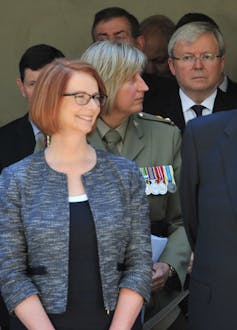 Julia Gillard's downfall as prime minister is one of the greatest personal tragedies in Australian politics … Gillard's ambition ultimately exceeded her political talent, and to the very end she would not see it.
From there, the countdown to the election was on.
Our dedicated Election 2013 section went live the moment Rudd named the (new) election date for September 7. We covered the happenings on the campaign trail, including a daily diary by Michelle Grattan, polls analysis from Adrian Beaumont, a panel of media experts to keep a close watch on the fourth estate and weekly podcasts.
During the course of the election, our experts factchecked the truthfulness of political statements on our dedicated Election FactCheck page. In a unique process, academic experts assessed the evidence and provided a verdict, before a second academic undertook a "blind" review of the check. Popular "checks" included whether or not Australia's refugee acceptance rates are comparatively high; how strong Australia's economy actually is; and whether Rupert Murdoch owns 70% of Australia's newspapers.
Our coverage also included a focus on election Issues and Essays, an analysis of the influence of the election's biggest outside player – the Murdoch press – from Murdoch watcher David McKnight. Our most-read piece of the campaign was a reflection by former ALP minister Barry Jones on the debasement of political discourse and campaigning.
Selected contributions were also compiled and published in a book, The Story of the 2013 Election, which was launched at Parliament House at an event attended by many MPs in early December.
Ultimately Tony Abbott and the Coalition recorded a landslide victory. So we reflected on Labor's legacy and looked at the Coalition's agenda, in areas ranging from the economy to foreign affairs. ACU vice-chancellor Greg Craven also gave a rare insight into the Tony Abbott he knows.
Meanwhile, Kevin Rudd made his final "zip" and retired from parliament. The Coalition didn't make a perfect start to life on the government benches. A female-lite Cabinet, a standoff with Indonesia over Australia's spying activities and a backflip on a backflip over commitment to schools funding led Shaun Carney to ponder, what is going on with the Abbott government?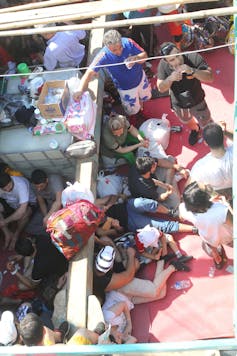 On a policy front, no one issue dominated the Australian political landscape quite like the question of asylum seekers. The Gillard government struggled to gain any traction amidst the "Stop the boats" sloganeering, but Rudd's return to office brought with it the "PNG solution". Asylum seekers who arrive in Australian waters by boat will no longer have the chance to be settled in Australia, and instead be resettled in Papua New Guinea if genuine refugees.
Despite the announcement being made well after beer o'clock on a Friday, our experts leapt into action and analysed the policy from every angle – from international law to mental health implications. We also decided to take a blue-sky thinking approach to the problem, with a series of "Asylum Solutions".
But it wasn't all federal politics for us in 2013. On a global stage, we provided analysis on the crisis in Syria. We also saw the first resignation of a pope since the 15th century when Pope Benedict XVI stepped aside. His successor, Francis I, has certainly made waves since his election in March, critiquing contemporary capitalism on his way to being named Time Magazine's Person of the Year.
We watched on as the US government shut down in October (and then kicked its budgetary problems down the road) and marked the deaths of three giants of modern politics: Venezuelan president Hugo Chavez in March, former British prime minister Margaret Thatcher in April, and South African icon Nelson Mandela in December.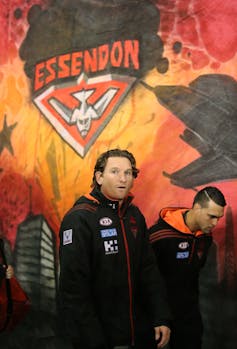 Locally, our society coverage focused largely on sport: the thing that unites, divides and defines us as Australians. Sport in Australia has suffered a tumultuous year, on and off the field. In February, on what was dubbed the "blackest day in Australian sport", the Australian Crime Commission released a report showing links between organised crime, performance-enhancing drug use and Australia's premier sporting codes.
Whether or not it was actually our "blackest" day remains the subject of debate, but the subsequent investigations at NRL club Cronulla and AFL club Essendon rocked Australia's leading football codes in 2013. But we cut through the usual spin of sports journalists with considered takes on angles ranging from what actually constitutes "unfair advantage" to whether or not workplace regulators should take action.
Meanwhile, Australia did battle with England in two consecutive Ashes cricket series. Australia's tour in the English summer was marked with "Australian despondency" and "English triumphalism" (in the words of our Ashes correspondent, David Rowe) as our cricketers slumped to a 3-0 loss. But in an unexpected change of fortune, the (ongoing) home series has seen Australian cricket "reborn".
We also continued our popular In Conversation series with leading figures in public life. Our academics joined Greens MP Adam Bandt, former Victorian premier Steve Bracks, DLP senator John Madigan and British Labour MP Tom Watson in wide-ranging, thoughtful longform interviews. In addition, John Keane spent a lively lunch and dinner with WikiLeaks founder Julian Assange in his London "prison", where the two riffed on issues including Assange's political aspirations.
We hope you've enjoyed the year as much as we have. To our readers and authors, have a safe and festive break and we'll see you in 2014.
---
Top five stories of 2013
No, you're not entitled to your opinion
Julian Burnside: Alienation to alien nation
Like, no offence but Ja'mie's private school stereotypes will make you laugh… and cry
Open plan offices attract highest levels of worker dissatisfaction: study