The Conversation es una plataforma de alta divulgación del conocimiento inspirada en el objetivo de dar a los investigadores de las universidades y otras instituciones una mayor presencia pública que la que permite la publicación de sus trabajos únicamente en revistas especializadas.
Fundada en Australia en 2011, se ha convertido en la mayor red internacional de colaboración fructífera entre el mundo universitario y el periodístico.
The Conversation trabaja en estrecha relación con más de 68.000 científicos y docentes pertenecientes a 2.300 centros de investigación y universidades, entre ellas Oxford, Cambridge, California, Boston, Michigan, Sorbona o Sciences Po.
Cuenta también con el patrocinio de instituciones filantrópicas relevantes como Bill and Melinda Gates Foundation, Carnegie Corporation of New York, Alfred P. Sloan Foundation, Open Society Foundations o Robert Wood Johnson Foundation entre otras.
Lo que convierte a The Conversation en un proyecto de alto valor comunicativo es su impacto social (8,2 millones de lectores directos y otros 34 gracias a las republicaciones en cientos de periódicos en todo el mundo, entre los que destacan Washington Post, The Guardian, Newsweek, Time o, en España, El País).
Es una iniciativa de carácter no lucrativo, lo que garantiza su independencia, su vocación de servicio público y su acceso libre y gratuito.
The Conversation cuenta ya con ediciones en Australia, África, EEUU, Reino Unido, Francia, Canadá, Indonesia y, ahora, la de España, que servirá de vehículo a una comunidad de más de 500 millones de hispanohablantes.
The Conversation es, en definitiva, un instrumento editorial multilingüe y divulgativo que funde rigor académico y oficio periodístico y que ofrece una información veraz y de calidad a millones de personas en todo el mundo.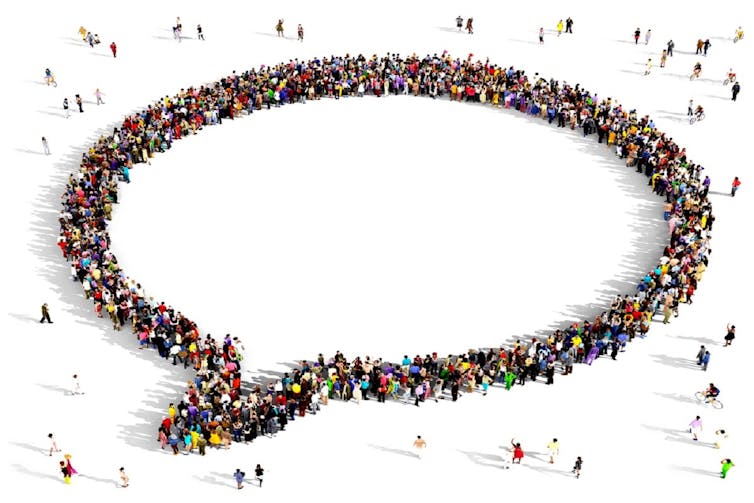 TC España nace con el respaldo de Fundación Telefónica, la Conferencia de Rectores de las Universidades Españolas (CRUE), el Consejo Superior de Investigaciones Científicas (CSIC), y las universidades de Oviedo, Barcelona, Alcalá, Politécnica de Madrid, Complutense, Nebrija, IE, Vic, Carlos III, Lleida, Pública de Navarra, Extremadura, Sevilla y Granada, además de la Fundación de Investigación Biosanitaria del Principado de Asturias (FINBA) y el Real Instituto Elcano.
Retos
La edición española que ahora ve la luz pretende ayudar a enfrentar dos importantes retos que tienen nuestras universidades y organismos de investigación: su mayor proyección social y una presencia más activa en el contexto internacional.
Nuestras instituciones no tienen una participación en los medios de comunicación acorde con la relevancia de su producción científica, que muchas veces queda relegada ante noticias que poco o nada tienen que ver con su quehacer académico.
The Conversation España quiere ser un medio para sacar a la calle la buena investigación de la que se beneficiarán cientos de personas con inquietudes por mejorar su conocimiento en asuntos relevantes a los que no pueden acceder por otros caminos.
Algunas universidades ya tienen departamentos para difundir con carácter divulgativo el trabajo de sus profesores. La plataforma, en este caso, les servirá de altavoz para que ese saber llegue a muchas más personas: a colegas de otras instituciones, a estudiantes, al mundo de la empresa y a las administraciones y partidos políticos. Nada de todo lo bueno que se hace en la universidad alcanza el nivel de utilidad deseable si no logra traspasar los estrechos límites de las aulas y los laboratorios y llegar a segmentos más amplios de la sociedad. Ya no vivimos en las torres de marfil en las que se confinaba nuestro quehacer tradicional, pero todavía queda un largo camino para que la proyección social de lo que hacemos tenga un mayor recorrido. Y The Conversation puede ayudar a lograrlo.
El prestigio de la divulgación
En unas sociedades en las que vivimos abrumados por tanta y tan variada información, la alta divulgación es un valor en alza porque permite que podamos acceder a conocimientos imprescindibles de la mano de sus cultivadores más experimentados.
Así se entiende en muchos países donde los buenos divulgadores tienen un gran prestigio y una elevada consideración social: escriben en los periódicos, aparecen en los medios audiovisuales o son capaces de diseñar productos rigurosos para un público amplio necesitado de sus saberes.
Internacionalización
El otro reto al que The Conversation puede ayudar a enfrentar es el de una mayor presencia internacional de nuestras instituciones e investigadores. En este ámbito progresamos adecuadamente, pero necesitamos mejorar. Y la plataforma, sin duda, ayudará a difundir el conocimiento español, a favorecer las interacciones con otras instituciones, a facilitar los proyectos conjuntos y contribuirá a una mejor valoración científica de las personas y organismos de investigación.
En estos momentos del lanzamiento ya hay un buen número de centros de investigación y conocimiento que se han incorporado a la plataforma. Desde aquí animo a hacerlo a otras instituciones académicas y científicas para que, entre todos, podamos construir un The Conversation España sólido y sostenible que sea una referencia de las instituciones que lo sostienen y un instrumento para ese mayor reconocimiento social al que aspiran y merecen.